A Wendy's Franchise, Good Cause & Day on the Links
Read time: 1 min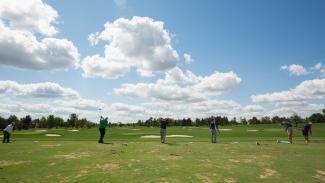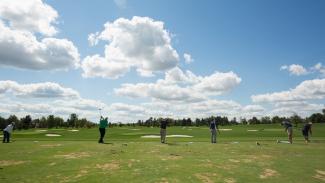 The unconditional and passionate generosity of The Wendy's Company, its franchisees, suppliers and customers is without equal in the nonprofit world.  Not only are critical, life-saving funds generated through customer donations of $1 or $2 during restaurant campaigns like Frosty Key Tags and Halloween Coupon Books (only possible through the valuable real estate and crew time shared by the restaurant owners and operators to make these campaigns successful), but through the many friends who step forward and execute successful events to benefit the Dave Thomas Foundation for Adoption and the children we serve.
One of the largest events is the annual Charity Golf Tournament, hosted by The Briad Group – a Wendy's franchise organization. For the past 16 years, Rick Barbrick, Brad Honigfeld, Dave Cahill and their teams have hosted this fun daylong golf tournament and dinner, inviting their partners to enjoy a day, rain or shine, dedicated to raising funds for the Foundation.  Last year, this event, through the tremendous commitment of The Briad Group, raised an amazing $400,000 for the Foundation!
The day is a company-wide initiative with dozens of employees volunteering their time to work the tournament, sell raffle tickets and secure donations. Because of their commitment to the work of the Foundation and willingness to engage sponsors and give their own time, this annual event has raised more than $2,000,000 since 1999 for the Foundation. This event alone has allowed us to embed and scale Wendy's Wonderful Kids across New York, New Jersey and Pennsylvania and serve thousands of children waiting to be adopted.
Reaching Our Goal Step By Step
As the Foundation continues to move toward the ultimate goal of a forever family for every waiting child in foster care, through efforts like national awareness programs and the expansion of Wendy's Wonderful Kids, support from friends like The Briad Group assures that we will reach our goal. Together, we remain committed to the values that Dave Thomas held dear - cherishing family and giving back.
Giving back helps children like Rusty. He was taken from his mother's home in New York when he was five years old because of severe neglect. Thankfully, last year he was matched with a Wendy's Wonderful Kids adoption recruiter who worked with urgency to find the youth a family – and quickly matched him with his potential adoptive father, Kirk. He knew there would be challenges, but in working with the recruiter, he saw past them to the child who was desperate to be loved. After more than 10 years in foster care, Rusty, adopted at age 16, now has a place to call home and someone to call "dad."
Thank you, Briad, and the entire Wendy's family for your continued support of our mission and for believing that Rusty and every child in foster care deserves a safe, loving and permanent family.
The Briad Group Charity Golf Outing is September 14, 2017 at Royce Brook Golf Club in Hillsborough, NJ.  If you are interested in sponsoring or playing in the tournament, please visit the event website.