How Wendy's Grew Globally in 2022
Wendy's Successful Development Across U.S. and International Markets this Year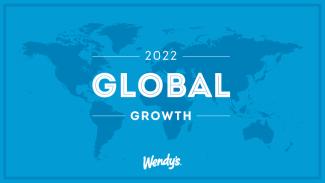 What a year!
2022 has been a milestone year for the Wendy's brand, and we have not seen global growth this accelerated in nearly 20 years. We're on a journey to become a brand of global significance, and our priorities and roadmap to aggressively grow our footprint in the U.S and across international markets are clear. To expand globally, we must:
Continue to supercharge new franchisee recruiting in key growth areas and amongst underrepresented groups
Unlock incremental traditional growth by leaning-in to our restaurant development incentive programs for new and existing franchisees and with innovative new designs and asset types
Expand via non-traditional development, including military bases and with creative assets such as our Frosty Cart
I'm excited to see what we'll accomplish together with our teams and franchisees over the next few years as we reach our goal of 8,000 – 8,500 restaurants by the end of 2025. We have a bright future ahead, and I'd like to thank our Wendy's family members for the progress we made this year to accelerate global growth.
We accomplished some great things together in 2022!
In February, we launched Own Your Opportunity, a new franchise recruitment initiative that creates pathways for all entrepreneurs who want to grow with the Wendy's System through franchise ownership. Own Your Opportunity is focused on increasing restaurant ownership for all, and specifically among women and people of color. Since the launch of this initiative, we have received more than 1,200 leads and have more than 250 potential franchise candidates in our pipeline.
With 30 years of history in Mexico and only 23 locations, we announced plans to significantly expand Wendy's presence in Mexico, where we believe there should be hundreds of Wendy's restaurants across the county. In Mexico, we are focused on building long-term relationships with franchisees who want to grow with us, share our values, and reflect the communities in which we operate.
We celebrated the opening of Wendy's 7,000th restaurant! Congratulations again to the Genesis Restaurant Group team in Dacula, Georgia, USA on helping us reach this milestone.
We proudly accepted two awards from the Canadian Franchise Association (CFA): CFA Hall of Fame and CFA Award of Excellence (Bronze). We were also honored to be recognized again with the Franchisees' Choice Designation for 2022. We cannot be the very best Wendy's we can be without the best franchisees in the business, and we're thankful for the continued partnership throughout Canada.
This summer, we shared exciting news about Wendy's new global restaurant design standard, Global Next Gen, for enhanced customer, crew and digital experiences. Going forward, Wendy's new traditional restaurant builds will feature a sleek and modern design with an optimized layout and next-generation technology to deliver more Wendy's to more people with an emphasis on convenience, speed, and accuracy. The collaboration to bring this restaurant design to life was inspiring, and I'm looking forward to touring our first Global Next Gen restaurant in 2023.
We shared our intention to recruit new master franchisees to build and open Wendy's restaurants in Ireland, Australia, and Spain. We can't wait to create new Wendy's fans in these markets!
After returning to the United Kingdom in the summer of 2021, we kept the momentum going this year and opened Company restaurants in Brighton, Camden, Ilford, Kingston, Maidstone, Sutton, and Uxbridge. We also welcomed Square Burgers Limited to the Wendy's family, the first franchise partner to open a traditional Wendy's restaurant in the UK.
We have an incredible future in front of us, and with our clear roadmap for growth, I believe that we will become the world's most thriving and beloved restaurant brand. I'm looking forward to 2023 and know that the best is yet to come.