Wendy's Unveils New Global Restaurant Design Standard
Global Next Gen: Designing the Restaurants of the Future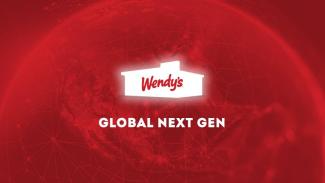 Our founder Dave Thomas introduced breakthrough innovations at Wendy's that still influence the quick service restaurant industry today. In 1970, Dave's vision for a new design element called the "Pick-Up Window" at a freestanding Wendy's restaurant revolutionized the customer experience. This first modern drive-thru was the catalyst propelling Wendy's from a four-store local Columbus hamburger chain into the thriving and beloved global brand fans know today.  
Five decades later, we continue our legacy of innovation by harnessing the power of design and technology to accelerate global growth. We are laser focused on expanding our footprint across the globe and accelerating our digital business, which reflects the intersection between physical and digital innovation. Today, we are unveiling Global Next Gen, the new global design standard for Wendy's restaurants. Our new global restaurant design standard leverages creative design and technology developments to meet the demands of our customers and crew today and tomorrow. Ultimately this will unlock growth for Wendy's. 
To learn more about Global Next Gen, we caught up with Wendy's President, International and Chief Development Officer Abigail Pringle; President, U.S. and Chief Commercial Officer Kurt Kane; and Chief Information Officer Kevin Vasconi.  
Q: What was the process that led Wendy's to Global Next Gen? 
Abigail: The collaboration to get here has been inspiring. Every Wendy's function, from Operations to Technology to Human Resources to Quality Assurance, has partnered on the design and strategy of Global Next Gen. Franchise leaders from the U.S., Canada and around the world have provided input on the concept, allowing us to refine the design along the way. Gathering feedback from all areas of our business helps ensure that our new global design standard creates better experiences for all: our customers, restaurant teams and franchise partners.  
Q: How will the new features of Global Next Gen provide customers a different Wendy's experience?  
Kurt: We know our customers – what they want from their experience and how we need to meet their expectations each time they visit us. With increased preferences for mobile ordering, drive-thru and delivery, we must consistently meet and exceed expectations for quality, order accuracy and convenience. Features like new mobile order parking and in-restaurant pick-up shelving, as well as a new dedicated delivery pick-up window, enable customers and delivery drivers to grab meals more quickly and conveniently. 
Q: What do Global Next Gen's new features mean for the restaurant teams? 
Kurt: Global Next Gen was designed to streamline operations. The new, cutting-edge blueprint removes barriers to increase accuracy, efficiency and effectiveness, supporting fast order fulfillment and enabling ongoing culinary innovation. This allows restaurant teams more time to focus on the most rewarding parts of their jobs – creating positive customer experiences that keep Wendy's fans coming back again and again.   
Q: How does the cost compare to previous designs? What will this mean for your franchisees?  
Abigail: Our analysis shows that Global Next Gen optimizes costs to build, which helps improve the rate of return for our franchise partners. It also touts an annual energy cost reduction of about six percent, which is a win for our franchisees and a win for the environment. The new design also provides demonstrated labor optimization improvements, which add up to valuable savings here as well.  
Q: How does technology work with design in Global Next Gen? 
Kevin: Technology powers everything in the restaurant, from the DSG 2.0 grill to the new back-office platform. The magic of the new design comes alive through the next generation of modernized technology that enables restaurants to handle significantly more digital business than before. This means our teams can work smarter, not harder on each fresh, made-to-order menu item. 
Learn more about Global Next Gen and the design's optimized features and cutting-edge technology here.