Wendy's Rewards™ is the Loyalty Program That Keeps on Giving
Eat Wendy's. Get Free Food. It's (almost) that easy.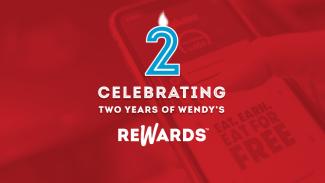 As the first nationwide hamburger chain to introduce a digital loyalty program, Wendy's® has always been ahead of the competition when it comes to rewarding fans and offering them the best deals. In fact, 23.6 million people seem to agree and have created a Wendy's Rewards™ account, savoring exclusive perks since the program's launch two years ago.
If you haven't joined Wendy's Rewards, there's no better time because from now through August 31, you can receive a free 10-piece chicken nuggets with mobile purchase offer* and 150 Rewards points just for creating your account.
But before you run to your Wendy's app and get your next order queued up, let's make sure you've got the lowdown on how Wendy's Rewards works:
How do I earn points on my Wendy's Rewards app?
You score 10 points for every $1 you spend, making it easy AND delicious to start earning points towards your favorite menu items. Points can be earned by either placing an order for pickup or delivery with the Wendy's app or website, or by scanning the QR code in your Wendy's app at the counter.
What if I forget to scan my QR code?
No worries! You have 24 hours following your purchase to upload your receipt and earn your points. Fill out the form at https://www.wendys.com/rewards-receipt-submission-form and make sure to enter the email address associated with your Wendy's Rewards account.
How do I redeem those points for free food?
Points can be redeemed at the Rewards Store on the Wendy's app. The Rewards Store is constantly refreshing with new options, so make sure to keep an eye on it and score some of your favorite menu items for free!
How many rewards can I use in one order?
You can only use one reward and one offer per order.
What are the most redeemed items?
Here's the inside scoop on the most redeemed items from fans across the country:
The most commonly redeemed items are:

For breakfast: Breakfast Baconator®
For lunch/dinner: 4-piece Nuggets

The states with the highest engagement rates among Wendy's Rewards users are:

1. Florida
2. New York
3. California
4. Ohio (our home state!)

The 4-piece Chicken Nuggets is the most redeemed item in every state except for three.

In Hawaii, North Dakota and South Dakota, the Frosty® is the most redeemed item. Feel free to tweet at us if you can figure out a correlation there!

Lastly, and unsurprisingly, our iconic Chocolate is the most commonly redeemed Frosty flavor. 
You can find even more frequently asked questions related to our rewards program over at https://www.wendys.com/rewards.
Now that you're all up to speed on Wendy's Rewards, head to your Wendy's app and check out what offers are available right now!
*Offer only available at participating U.S. Wendy's. Mobile offer must be redeemed via the Wendy's app.  Valid for new account registrations only. Not valid for delivery orders placed outside of the Wendy's app. See offer in Wendy's app for further details.