Wendy's Fish Sandwich Availability
Our much-anticipated Crispy Panko Fish Sandwich will be back February 20th, 2023 for a limited time!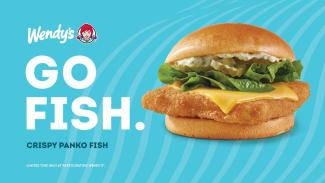 We know Wendy's® limited-time fish sandwich has earned a strong, dedicated fan base over the years. With seafood season around the corner, you might wonder, "When will Wendy's fish sandwich be available in 2023?" Well, get ready because beginning today, February 20, Wendy's Crispy Panko Fish Sandwich will be back on menus nationwide giving the people what they want! 
Nobody knows more about the Crispy Panko Fish Sandwich than John Li, Vice President of Culinary Innovation. We spoke with him about this savory sandwich to break down its craveable flavor profile. Here are the delicious details: 
How can I get my hands on the Crispy Panko Fish Sandwich ASAP?
We're never one to bury the lead. For the best fish sandwich near you, head to your local Wendy's to purchase the Crispy Panko Fish Sandwich in-restaurant or order for pick-up via the Wendy's app. Don't want to leave the couch? Don't worry. Order straight to your doorstep through the Wendy's app or our delivery partners – DoorDash, Grubhub, Postmates and Uber Eats. 
Can you tell us more about the fish fillet?
Our Wild Alaskan Pollock fillet offers a similar flavor experience to cod with a white flaky meat and comes from the world's largest certified sustainable fishery. Independent third parties use scientific research to estimate the populations of Wild Alaskan Pollock in the Bering Sea, Aleutian Islands and Gulf of Alaska. Using these estimates, only about 15% of the population is caught each year, leaving an abundant population to thrive for future generations. Plus, Wild Alaskan Pollock has traceability built into the supply chain, which is a priority for us at Wendy's as part of our food vision, Fast Food Done Right. 
Learn more about our responsible food-sourcing here. 
What's on the Crispy Panko Fish Sandwich?
We know we have a good thing going with our Crispy Panko Fish Sandwich, which is why the sandwich build remains the same this year. Savor our Wild-Caught Alaskan Pollock fillet coated in crispy panko breading topped with lettuce, a slice of American cheese, pickles and creamy dill tartar sauce, all served on our premium bun. 
Can you explain more about the flavor profile of the Wild Alaskan Pollock sandwich?
We pride ourselves on offering what we believe is the best all-around fish sandwich among fast food restaurants. The Wild Alaskan Pollock fillet's buttery flakiness is complimented by savory notes of garlic and onion inspiring our fans' love of the fish sandwich's texture, flavor and crispiness.  
Then, we get to the cheese. We know our fans enjoy adding a slice of creamy cheese, so we added a slice of American cheese to complement the crunchiness of the Wild Alaskan Pollock fillet, lettuce and pickles.  
In your opinion, what pairs best with the Crispy Panko Fish Sandwich? 
The buttery Wild Alaskan Pollock fillet paired with our Hot & Crispy fries is a savory lover's dream. Looking to go all-in on garlic? Look no further than our Hot & Crispy garlic fries to accompany the notes of garlic and onion from our fish sandwich. And to quench your thirst, I highly recommend pairing our fish sandwich with an ice-cold Coke®, straight from the Coca-Cola Freestyle® machine.   
Is Wendy's fish sandwich available without cheese? 
Of course! Our sandwiches are made fresh to order, so the option to customize is always available.
How much is the Wendy's fish sandwich?
Pricing may vary by location, but you can grab the Crispy Panko Fish Sandwich at your nearest Wendy's for about $5.89*. 
Does Wendy's have fish sandwiches year-round? 
Our Crispy Panko Fish Sandwich comes around nationwide for a limited time each year. In 2023, the beloved fish sandwich will be available on Wendy's menus across the U.S. beginning Monday, February 20. However, some restaurants may offer this fan-favorite fish sandwich year-round, so head to the Wendy's app to place your order today or check out our location finder for the Wendy's closest to you.  
Thanks for chatting with us, John!  
Once you've tried our Crispy Panko Fish Sandwich, share your love by tagging @Wendys on Twitter, Facebook, TikTok or Instagram! 
*Recommended pricing. U.S. participation may vary. 
"Coke" and "Coca-Cola Freestyle" are registered trademarks of The Coca-Cola Company.