Wendy's Fish Sandwich Availability
Our Much-Anticipated Crispy Panko Fish Sandwich Will Be Available Starting February 28th, 2022 for a Limited Time!
Read time: 1 min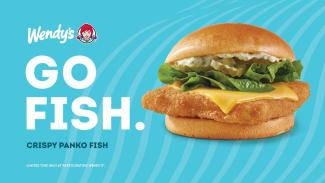 We know interest in Wendy's fish sandwich spikes about this time every year, with fans frequently reaching out to us to ask, "When will Wendy's fish sandwich be available in 2022?" Well, get ready because on Monday, February 28, Wendy's Crispy Panko Fish Sandwich will be on menus, following its well-received debut last year.
Nobody knows more about the Crispy Panko Fish Sandwich than John Li, Vice President of Culinary Innovation. We spoke with him about why we switched our fillet to Wild Alaskan Pollock and how we landed on a craveable flavor profile. Here are the delicious details:
How can I get my hands on the Crispy Panko Fish Sandwich ASAP?
We're never one to bury the lead. Head to your local Wendy's to purchase the Crispy Panko Fish Sandwich in-restaurant or order for pick-up via the Wendy's app. Don't want to leave the couch? Don't worry. Order straight to your doorstep through the Wendy's app or our delivery partners – DoorDash, Grubhub, Postmates and Uber Eats.
Why the switch from cod to Wild Alaskan Pollock?
The Wild Alaskan Pollock fillet provides a similar flavor experience AND comes from the world's largest certified sustainable fishery. Populations of Wild Alaskan Pollock in the Bering Sea, Aleutian Islands and Gulf of Alaska are estimated by independent third parties using scientific research surveys. Each year only about 15% of the population is caught, leaving an abundant population to thrive for future generations. Additionally, Wild Alaskan Pollock has traceability built into the supply chain, which is a priority for us at Wendy's.
Learn more about our responsible food-sourcing here.
What's on the Crispy Panko Fish Sandwich?
The sandwich build remains the same as last year, if you were lucky enough to try it. It includes a Wild-Caught Alaskan Pollock fillet coated in crispy panko breading topped with lettuce, a slice of American cheese, pickles and creamy dill tartar sauce, all served on our premium bun.
Can you explain more about the flavor profile of the Wild Alaskan Pollock sandwich and how it compares to the previous cod sandwich?
We pride ourselves on offering what we believe is the best all-around fish sandwich among fast-food restaurants – and it was important we maintain that status. The new Wild Alaskan Pollock fillet's buttery flakiness is complimented by savory notes of garlic and onion. Many of our customers last year remarked on how the sandwich's texture, flavor and crispiness is improved compared to the cod sandwich.
Then, we get to the cheese. We know that a lot of our fans enjoyed adding a slice of cheese to the cod sandwich. A huge part of what we do at Wendy's is listen to our customers, so we added a slice of American cheese to complement the crunchiness of the Wild Alaskan Pollock, lettuce and pickles.
In your opinion, what pairs best with the Crispy Panko Fish Sandwich? 
The buttery Wild Alaskan Pollock fillet paired with our Hot & Crispy fries is a savory lover's dream. I highly recommend trying it with a cold Dr Pepper®, straight from the Coca-Cola Freestyle® machine.  
Is Wendy's fish sandwich available without cheese? 
Of course! Our sandwiches are made fresh to order, so the option to customize is always available.
How much is the Wendy's fish sandwich?
You can grab the Crispy Panko Fish Sandwich at your nearest Wendy's for $4.29*.
Does Wendy's have fish sandwiches year-round? 
Our Crispy Panko Fish Sandwich comes around for a short period each year, and this year it will be available on Wendy's menus across the U.S. beginning Monday, February 28. However, some restaurants may offer this fan-favorite year-round, so head to the Wendy's app to place your order today or check out our location finder for the Wendy's closest to you.
Thanks for chatting with us, John!  
Once you've tried our Crispy Panko Fish Sandwich, share your thoughts by tagging @Wendy's on Twitter.
*Recommended pricing. U.S. participation may vary.
Dr Pepper is a registered trademark of Dr Pepper/Seven Up, Inc.
"Coca-Cola Freestyle" is a registered trademark of The Coca-Cola Company.