5 Ways We Celebrate Earth Day, Every Day
The Wendy's Way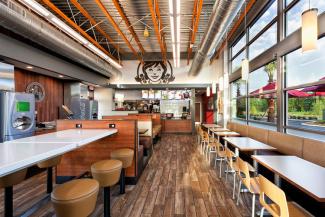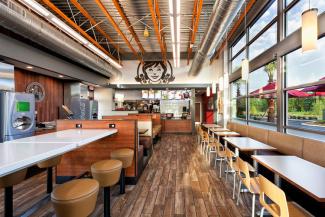 As the world's third-largest quick-service hamburger company, we have an obligation to maintain certain standards of environmental sustainability and help reduce our environmental impact. And while we can't say thank you to Mother Nature by offering her a fresh*, juicy Dave's Single® and Frosty® (plus hot and crispy fries to dip with, of course), we've worked hard to make sure we're giving back through a comprehensive program to take care of the communities in which we live and work. Check out the five ways we're making Earth Day an everyday thing…
1.  Smart Family of Designs
In 2017, we launched what we call the "Smart Family of Designs" (because "energy efficient restaurants with a reduced footprint and a smaller investment" just didn't have the same ring to it). These designs were the first step in providing a range of sustainable development options to franchisees. Since then, we've continued to develop this program and recently introduced the Smart 2.0 design, with an even smaller footprint and features that promote energy efficiency, while targeting an additional $150,000 of savings. Talk about a win-win.
2.  Better Buildings® Challenge
Just as we were among the first restaurant companies to commit to fresh, never frozen beef, Wendy's® is proud to be among the first to join the U.S. Department of Energy's Better Buildings Challenge. The national program challenges companies to help improve the energy efficiency of America's commercial and industrial buildings by 20 percent or more. In addition to the national program, we've developed our own program called Wendy's Energy Challenge, which allows franchise restaurants in both the United States and Canada to participate.
And while you know our fresh, never frozen burgers are amazing, our passion for energy conversation is up there, too. So far it has led to 70 restaurants – which is over 20 percent of our company-owned restaurants – to exceed the overall 20 percent energy reduction goal in 2017. Did we mention that's eight years ahead of schedule? Eight years! We're also proud that our Restaurant Support Center has cut their energy usage by 28 percent, in effect helping lower greenhouse gas emissions by more than 27 percent compared to the 2013 base.
3.  ENERGY STAR® Partner
Through a voluntary partnership with the Environmental Protection Agency's ENERGY STAR® Program, we're working to improve energy efficiency through a strategic, corporate energy management program. A few of these commitments include:
Measuring and tracking the energy performance of a locations facilities, where possible, by using tools offered through ENERGY STAR;

Developing and implementing a plan consistent with the ENERGY STAR Energy Management Guidelines to achieve energy savings;

Communicating the importance of energy efficiency to the Wendy's system, which includes more than 300 franchise organizations across the globe;

Continuing to support the Department of Energy's Better Buildings Challenge.
4.  Supplier Code of Conduct
For the second year in a row, we achieved 100 percent acknowledgement of Supplier Code of Conduct by designated suppliers. The Code focuses on the big ideas that are important to the Wendy's brand and its customers, a.k.a - food safety and food ingredients, farm animal health and well-being, human rights and labor practices, environmentally sustainable business practices and business ethics and integrity.
In 2017, we expanded our Supplier Code of Conduct to include all United States and Canadian contracts managed by Quality Supply Chain Cooperative (QSCC), and expanded the provisions to include additional assurances and requirements related to human rights and labor practices. The Wendy's Company now requires third-party reviews related to the human rights and labor practices for certain suppliers of hand-harvested, whole, fresh produce. Every year, we try to improve our company responsibility and be a better company for our people and for our customers – that balance has and always will be important.
5.  Sustainable Sourcing
Our corporate social responsibility extends to the supply chain as well, with a sustainable sourcing strategy that would make even the most rigorous business school professors proud. Additionally, our long-standing Animal Welfare Program continues to lead the industry. Last year, we eliminated all antibiotics important to human medicine from our chicken production. We've also committed to purchasing 100 percent cage-free whole eggs for restaurants serving breakfast in the United States and Canada by 2022, because #quality.
For more information on how we're continually improving and a full energy and sustainability progress report, click here.
*Fresh beef available in the contiguous U.S., Alaska and Canada