Wendy's New Spring Menu Has Sprung 
Check out Wendy's newest menu items and fresh flavors for spring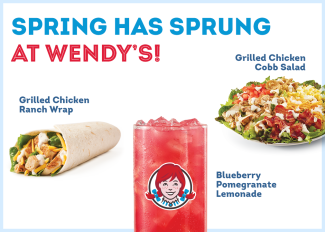 Looking for fresh bites for the warmer weather ahead? Enter the light, seasonal flavors of Wendy's® new spring-inspired menu items: Blueberry Pomegranate Lemonade, the Grilled Chicken Ranch Wrap and the Grilled Chicken Cobb Salad. From the beautiful, bright colors of our Dave's Craft Lemonades to premium craft entrée salads and our new chicken wrap, you simply won't find these menu items anywhere else.  
Wendy's Newest Dave's Craft Lemonade Flavor: Blueberry Pomegranate Lemonade 
While the other guys are scrambling to jump on the lemonade train, our Dave's Craft Lemonades have been a fan-favorite menu item for years. Our bright, refreshing lemonades invite fans to discover new flavors that taste like summer. The Blueberry Pomegranate Lemonade combines the sweetness of blueberries with subtle, tart notes of ripe pomegranate. With a one-of-a-kind purple hue and perfectly balanced flavors, the new Blueberry Pomegranate Lemonade tastes just as good as it looks.  
Welcome The New Grilled Chicken Ranch Wrap 
Wendy's listens to our fans, and we have your back. We're delivering what others took away, with a new Grilled Chicken Ranch Wrap – just in time for fans who are looking for a lighter, more portable menu option this spring. We're not clowning around with a chicken snack wrap dupe. This premium wrap delivers classic flavors that are sure to satisfy! The Grilled Chicken Ranch Wrap starts with a warm tortilla filled with diced grilled chicken, shredded cheddar cheese, fresh romaine lettuce, all tied together with our fan-favorite, creamy ranch dressing. (And it's no secret that at Wendy's, we know quality Ranch!) Order the new craveable Grilled Chicken Ranch Wrap, whether you're on the go or if you're looking to add something different to your next meal.  
Wendy's New Grilled Chicken Cobb Salad 
We'll never let fans settle for bland, fast-food salads. To develop the new Grilled Chicken Cobb Salad, our culinary team tested nearly 40 different salad ideas before creating the perfect Cobb salad, focused on fresh ingredients and familiar flavors. On the Grilled Chicken Cobb Salad, customers will enjoy our fresh-cooked Applewood Smoked Bacon, chopped tomatoes, grilled chicken, crispy fried onions, diced egg and creamy ranch dressing, all on top of Wendy's signature lettuce blend.   
While our competitors seem to expect customers to settle for bland salads, Wendy's is the only hamburger QSR brand in the game with forward-leaning, entrée-sized craft salads. We don't cut corners on freshly prepared ingredients – from the lettuce we choose to the dressing we drizzle.  
To continue providing the most craveable salad dressings to our customers, we are launching Wendy's branded dressings this month to amplify flavor, along with introducing a new, heartier lettuce blend for our salad fans. For Caesar salad lovers, we've elevated our Parmesan Caesar salad with new toppings to distribute savory parmesan flavor evenly across bites for a better, bolder flavor. 
For a fresh-made meal packed with bold and familiar flavors for the warmer weather ahead, our Classic Dave's Lemonade with real fruit pairs perfectly with Wendy's craft salads or new Grilled Chicken Ranch Wrap for the ideal balance of bold, fresh flavors. Download the Wendy's app and head to your nearest restaurant to try out our new spring menu items so you can taste the freshest ingredients of the season.