AI and Beyond: Wendy's New Innovative Restaurant Tech
Wendy's is Introducing Industry-Leading Technology to the Restaurant Experience. See How.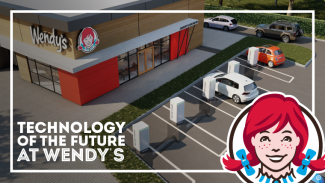 As the first quick service restaurant (QSR) to pioneer the modern pick-up window more than 50 years ago, Wendy's® is consistently innovating to meet its customers where and how they want to enjoy Wendy's – whether that's through the drive-thru, dining room or mobile order pick-up. Continuing our legacy of innovation, we have a huge opportunity to deliver truly differentiated, faster and frictionless experiences for our customers with two technology pilots this year.  
Automating Drive-Thru Ordering with Generative Artificial Intelligence 
Automating the drive-thru so restaurant employees can focus on creating great customer experiences is a challenge the QSR industry has tried to solve for years but has not done so successfully at-scale. With 75 to 80 percent of Wendy's fans choosing the drive-thru, delivering a seamless ordering experience using artificial intelligence (AI) in restaurants can be difficult due to complexities of menu options, special requests and ambient noise.  
This month, we announced an expansion of our multi-year strategic partnership with Google Cloud, tapping into their world-class technology to develop a groundbreaking AI platform, Wendy's FreshAI. Beginning with a pilot in June, the Wendy's FreshAI automated drive-thru ordering system is intended to feel as natural as interacting with a crew member, providing quick answers to customer questions and taking accurate food orders, even if items are not phrased exactly as they appear on the menu. For example, if a customer asks for a large chocolate milkshake, the system knows to make it a large chocolate Frosty ®. Wendy's FreshAI pairs an AI-powered voice experience with a visual order display on a digital menu board, so drive-thru customers can have confidence in the order accuracy as they interact with the automated ordering system. 
The Future of Artificial Intelligence at Wendy's  
The innovative restaurant technology behind Wendy's FreshAI is initially intended to transform drive-thru ordering by delivering greater speed, accuracy and consistency to customers. By successfully automating the drive-thru, one of the most challenging aspects of the QSR industry, we plan to continue expanding Wendy's FreshAI to new, exciting channels, enhancing our restaurant employee and customer experience. The future of AI technology has the potential to integrate with the Wendy's app, in-restaurant kiosks, mobile devices, smart home devices and more with a multi-channel approach to provide the best experience for our customers – however they choose to order.   
Piloting Underground Digital Order Delivery  
From the drive-thru to digital platforms, we meet our customers where and how they want to enjoy Wendy's while leading the way in restaurant technology trends. Digital ordering is increasingly popular, making up about 11 percent of sales as of March 31. To meet this growing demand across online ordering, the Wendy's app and delivery partners, we are partnering with Pipedream to pilot its underground autonomous robot system with the goal of delivering digital food orders from the kitchen to designated parking spots, for faster and more convenient pick-up experiences.  
Pipedream's Instant Pickup portals will be positioned outside the restaurant and are intended to increase efficiency by streamlining orders to carside pick-up points for digital customers and delivery drivers. By solving order handoff, the final leg of digital order pick-up, Wendy's restaurant crew members can focus on what matters most: serving delicious, high-quality food and connecting with customers in this digital-first world. 
What to Expect from Autonomous Robot Delivery  
We are planning to pilot Pipedream's industry-first underground delivery system during the second half of 2023 at a Company-operated restaurant with high digital order volume.  Upon arrival at the pilot location, customers or delivery drivers will pull into a designated parking spot next to an Instant Pickup portal and communicate via speaker with the restaurant crew. The technology will use autonomous robots to transport meals underground to the carside Instant Pickup portals, in seconds. Pipedream's temperature-controlled delivery technology is designed with the intent to keep fan favorites, like Dave's Craft Lemonade, delivered without a spill and fries that are Hot & Crispy.  
The Future of Restaurant Technology to Enhance Employee Experiences 
We are pursuing smart, new restaurant technologies at Wendy's to enhance the customer and crew experience. The innovative restaurant technology streamlines and removes complexity from the drive-thru ordering and digital order pickup experience, so crew can focus on serving up fast, fresh-made, quality food and building relationships with fans that keep them coming back. These innovations are intended to support crew in meeting the increased volume of Wendy's orders in the drive-thru and across our growing digital channels.  
Guided by Wendy's core values, which include "Quality is our Recipe®" and "Doing the Right Thing," putting our customers and crew first is at the heart of our decisions. We have partnered with like-minded, innovative companies to help us implement new, fresh approaches and groundbreaking technology to truly enhance the Wendy's experience across digital, drive-thru and in-restaurant. By working with industry leaders like Google Cloud and disruptive innovators like Pipedream, we continue to focus on quality and listening to what our customers want and expect from Wendy's.