Learn More About Wendy's Sauces and Dressings
Frequently asked questions: Wendy's beloved sauces, dressings and condiments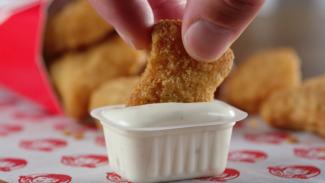 Wendy's® sauces are great for dipping, dunking and drizzling. Try one (or a combination of a few) of these Wendy's sauces to customize your meal with the flavors you're craving.  
What's in Wendy's sauces?  
At Wendy's, we believe quality is something you can taste and that craveability is non-negotiable. That's why we use real spices, like garlic, chili and onion powders and paprika in our sauces. We also use familiar pantry ingredients you'd use at home, such as honey and habanero peppers in our Hot Honey sauce and dried bell peppers in our Sweet & Sour sauce. Ultimately, we strive to create a flavor experience that you can only find at Wendy's.   
What sauces are on Wendy's sandwiches?    
We can all appreciate ketchup, mustard and mayo as condiment classics. To inspire your next order, here's just a few craveable sauces you can find on Wendy's sandwiches: 
Bourbon Bacon Cheeseburger: This Made to Crave hamburger is smothered in our sweet, smoky bourbon bacon sauce, complementing our fresh, never frozen beef* patty, Applewood smoked bacon, American cheese and crispy onions. 

Pretzel Bacon Pub: Taste the warm, melty, gooey beer cheese sauce in every bite with the flavors of our fresh-cooked Applewood smoked bacon, crispy fried onions, pickles, smoky honey mustard and a slice of muenster cheese. Double down on this creamy sauce with a side order of Pub Fries, topped with beer cheese! 

Sausage, Egg & Swiss Croissant: Start your day with a flaky croissant paired with a fresh-cracked egg and grilled sausage covered in our creamy Swiss cheese sauce to up the ante on breakfast flavor.  
The best part? Everything at Wendy's is made fresh to order, giving you the option to customize any meal, including your sauces.  
Does Wendy's have hot sauce?   
If you're looking to add a little extra heat to your favorite Wendy's meal, we have a few saucy suggestions, courtesy of the Queen of Spice:     
Hot Honey Sauce: For a little extra kick that's equal parts sweet and heat, try this combination of real honey and habanero peppers.  

Ghost Pepper Ranch: We've matched up ghost peppers, one of the spiciest peppers of all, with our creamy buttermilk ranch for the perfect balance of spice and flavor.  
For the full list of Wendy's sauces to match your every craving, visit Wendy's sauces page.  
Will Side of S'Awesome® and Sriracha come back?    
We know our fans love flavor, which is why many of our sauces have earned a special place in our fans' hearts and stomachs, including Side of S'Awesome Sauce and Creamy Sriracha Sauce. We're always listening to what our fans are craving, and that includes bringing back fan favorites. Look for new (or returning) sauces by checking the Wendy's Sauces page. 
What about dressing options for my salad? 
We've got you covered! If you're in the mood for a lighter meal, we offer freshly made craft salads with Wendy's signature lettuce blend, nutritious fruits and veggies and flavorful toppings. Our entrée salads are drizzled in our newly re-formulated dressings that give eating your veggies a whole new meaning.  
Prefer the classic sauces? Don't fret! At Wendy's, we don't skimp on the condiments you might prefer with your Hot & Crispy Fries or Spicy Chicken Nuggets, including ketchup, BBQ, Honey Mustard and Buttermilk Ranch.  
*Fresh beef available in the contiguous U.S., Alaska and Canada.