Wendy's New Summer Lemonade Drink Lineup
Sip up summer with Wendy's Dave's Craft Lemonade flavors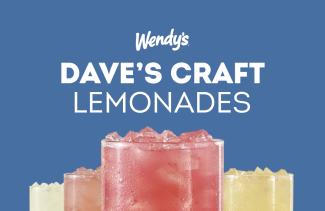 Wendy's Dave's Craft Lemonades have been a fan-favorite menu item for years. Our all-natural lemonade allows us to bring flavor innovation like no one else in the business, changing the beverage game for good. From beautiful colors to natural and refreshing flavor profiles, our Dave's Craft Lemonades invite fans to discover new flavors that feel like they were made for them. Here's a little refresher on our unmatched Dave's Craft Lemonades to help you gear up for the warmer weather ahead!
What lemonade flavors does Wendy's have?
Our lemonades are mixed with fruit purees and juices from summer staples, like ripe strawberries, pineapples and blueberries, designed to quench your thirst.
Blueberry Pomegranate Lemonade: Order our newest addition to the Dave's Craft Lemonade lineup and taste the perfect balance of sweet blueberry and tart pomegranate.
Pineapple Mango Lemonade: This tropical blend is a vacation for your taste buds with bright juices of pineapple and mango.
Strawberry Lemonade: Real strawberries picked at peak freshness are the key ingredient in our Strawberry Lemonade.
All-Natural Lemonade: As the "OG" of our beloved Dave's Craft Lemonade line-up, All-Natural Lemonade is a tried-and-true classic.
Each of our lemonade flavors deliver exactly what fans expect from Wendy's: refreshing, exciting and on-trend options.
What is Wendy's new lemonade? 
We're excited to kick off the season with the newest irresistibly delicious flavor in our lemonade lineup: Blueberry Pomegranate Lemonade. With a refreshing balance of sweet blueberry flavors and bright, tart notes of pomegranate, the Blueberry Pomegranate Lemonade tastes as vibrant as it looks, with a unique purple hue. The reviews are in – Blueberry Pomegranate Lemonade tastes like summer in every sip!
What's in Wendy's natural lemonade that makes it so good? 
Unlike the other guys, Wendy's doesn't use artificial colors, flavors or high fructose corn syrup in our lemonade. Mixed with purees and juices from the ripest fruits of the season, Wendy's proudly combines uniquely bold flavors, including berry-forward and non-berry combinations, for a thirst-quenching beverage that our customers love.
Why does Wendy's lemonade taste homemade?
Wendy's all-natural lemonades allow us to bring flavor innovation like no one else, with lemons picked and juiced at their peak season to ensure quality lemonade that tastes fresh. Our fans truly love our Craft Lemonades, and we pride ourselves on creating bright, refreshing lemonade flavorings that all begin with our great-tasting, classic all-natural lemonade.
What is the most popular Wendy's lemonade flavor?
Wendy's Strawberry Lemonade has continued to be a fan-favorite – and for good reason. The Strawberry Lemonade is one of the most popular DoorDash* delivery items, combining our sweet signature strawberry puree, made with real strawberries, with our tangy classic lemonade base. Our other lemonade flavors are equally as satisfying and on trend for lemonade fans seeking the flavors of summertime in every sip!
Thirsty yet? Download the Wendy's App and order Dave's Craft Lemonades at your local Wendy's**. Pair with a classic Dave's Single® and Hot and Crispy Fries or try our new Grilled Chicken Ranch Wrap or Grilled Chicken Cobb Salad for the ultimate light, satisfying spring-inspired meal.
* Delivery via DoorDash available only in select markets at participating U.S. restaurants while supplies last. Prices may be higher than in restaurant. Additional delivery fees, service fees, surge fees, small order fees, taxes and gratuity may apply. See full terms and conditions at dasherhelp.doordash.com/offer-terms-conditions.
**Wendy's App account registration required.