Wendy's Lemonade Flavors & Menu Pairings
From Strawberry Lemonade to Tropical Berry, Discover Wendy's New Lemonade Flavors this Summer
Read time: 1 min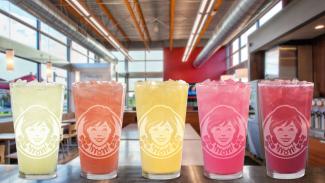 Ah, summer. The world seems to spin a little slower and you take time to relish in some classic pleasures, like enjoying an ice-cold lemonade. While there's nothing wrong with a good, old fashioned lemonade, we'll proudly say that Wendy's® lemonades are a next level version of the tried and true classic. Think of them like a tropical vacation for your taste buds on those sweltering days, and every day in between. For starters, our lemonades are mixed with fruit purees and juices from summer staples, like ripe strawberries, juicy peaches and plump blackberries, as well as exotic flavors like dragon fruit and passion fruit. And unlike some of our competitors, we strike the perfect balance of sweet and tart in every sip. This summer is all about discovering flavors that feel like they were made for you. Whether it's one of our classics, like the fan-favorite that gets everyone talking – Strawberry Lemonade, need we say more? –  or one of our new offerings like Peach, Tropical Berry or Wildberry Lemonade.
We know the drink you pair with food creates a combination of flavors that can take the enjoyment of your meal to new heights. That's why we take so much pride in crafting our unique beverage lineup. What pairs well with a grilled chicken sandwich might not be the perfect companion to our fresh, never frozen beef*. Luckily, we're sharing tried and true recommendations from our culinary team so you can confidently order something that you know will pair well with your favorite Wendy's menu items.
Peach Lemonade
Made with real peach puree, this is a pure, unadulterated taste of summer. Think Georgia peach meets all-natural lemonade in a delicious blend that's as sweet as it is refreshing. When thinking about this pairing, it's important to offset the sweetness of the peach with something creamy. Our recommendations? If you're looking for a bolder pairing, try the Homestyle Avocado BLT Chicken Sandwich. The homestyle fillet, saltiness of the bacon and creaminess you get from the avocado couple with the sweet peach and tangy lemon in a way that makes your taste buds pop. Craving a more subtle but interesting take? Try sipping this refreshing lemonade with the Parmesan Caesar Chicken Salad. While Parmesan has a sharp flavor, it counters the sweetness of the lemonade. Asking for extra Parmesan crisps is a great way to make sure you're really embracing this tasty tension!
That said, no matter what, the Peach Lemonade evokes the nostalgia of biting into a juicy peach on a hot summer day in the country. Bless your heart!
Wildberry Lemonade
This sensational blend of juicy real strawberries and purees from blackberries, raspberries and blueberries is pure "ahhh" on its first sip. Now, you can play this two ways: go big and pair opposite flavors, or pair it with something of a similar nature. If you're looking to go big, try pairing the Wildberry Lemonade with the classic Baconator®. With almost as many fruits in the lemonade as there are slices of bacon on our Baconator, these two flavor juxtapositions – the saltiness from the bacon and the luscious lemonade – are a match made in flavor heaven. If you want to go all out on the fruity flavor, you can also try pairing it with the Berry Burst Chicken Salad. The refreshing taste of the fresh blueberries, strawberries and Marzetti® Simply Dressed® Raspberry Vinaigrette mingled with this salad is a tasty way to add another fruity flavor to the mix and nail the perfect fruit-forward finish.
Tropical Berry Lemonade
A mix of strawberry, passion fruit and dragon fruit purees, this is an exotic take on lemonade that's full of vibrant and unexpected flavors. Reminiscent of days spent on the beach in your favorite tropical destination, we suggest coupling these sweet flavors with a kick of heat for contrast. How much heat? That's up to you. Try it with our Spicy Chicken Sandwich, breaded with a blend of fiery peppers and spices, or ask for one of our signature Made to Crave Chicken Sandwiches to be made with a spicy fillet. Spice hack: hold the lettuce to really let the spicy flavors come through!
Craving a burger instead? If you're headed that route, our personal recommendation is the Barbecue Cheeseburger: the vibrant tropical flavors bring out the sweetness found in our signature sweet and smoky barbecue sauce. Your fruit-forward palate will also savor the onions on top, which are cooked until the sugars caramelized to put the passion in your passion fruit.
While we've had a blast mixing up these new flavors, we'd be remiss not to honor the classic, fan-favorite Strawberry Lemonade.
Strawberry Lemonade
Wendy's Strawberry Lemonade could arguably be paired with just about anything on our menu. After all, there's a reason why it's one of the top delivery items on DoorDash**. Try pairing it with the S'Awesome Bacon Cheeseburger: the creamy, smoky and savory signature Side of S'Awesome® sauce, paired with our legendary, Applewood smoked bacon, complements the classic flavor of our Strawberry Lemonade.  
But most importantly, all our delicious beverages wouldn't be possible without our classic all–natural lemonade as a base. It's the time-honored thirst quencher that's at its best when washing down a classic Dave's Single®.
Oh, and the best part? You don't even have to leave your back-yard chill session or your office because all these refreshing options can be delivered straight to you with DoorDash.
* Fresh beef available in the contiguous U.S., Alaska and Canada.
** Delivery via DoorDash available only in select markets at participating restaurants while supplies last. Prices may be higher than in restaurant. Additional delivery fees, service fees, surge fees, small order fees, taxes and gratuity may apply. See full terms and conditions at dasherhelp.doordash.com/offer-terms-conditions.
Marzetti and Simply Dressed are registered trademarks of the T. Marzetti Company.
Berry Burst Chicken Salad and Peach, Tropical Berry and Wildberry Lemonades are available at participating Wendy's for a limited time.