Wendy's 2023 Global Convention Recap
2023 Wendy's Global Franchise Event Celebrates the Iconic QSR Brand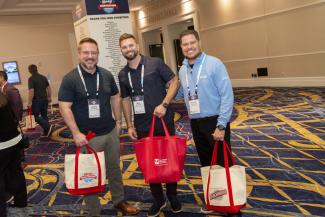 There's something special about getting together to celebrate our global System's collective wins, recognize the successes of our franchisees, and share what's next for the brand. The Wendy's family did just that last month, gathering from across the world for our Annual Wendy's Franchise Convention and Family Night benefiting the Dave Thomas Foundation for Adoption. This year, the Wendy's System met in National Harbor, just outside of Washington, D.C., for three days to launch our global Campaign for Growth as we work to achieve our vision of becoming the world's most thriving and beloved restaurant brand. 
Let's take a look at some of the highlights from this year! 
Global Top 200 General Manager Celebration
Our general managers (GMs) are the heartbeat of the Wendy's System, and for the second year in a row we celebrated our global Top 200 GMs on stage at Convention. With more than 7,000 Wendy's GMs across the globe, our Top 200 are the best of the best and are selected based on a variety of factors including top sales performance, highest customer count growth, highest overall satisfaction scores, lowest turnover, and speed of service. This year's Top 200 span 23 countries, average 15 years with the brand, and nearly a quarter of them have been recognized as a Top GM in previous years.  
Those selected as Wendy's Top GMs received a rousing welcome from the nearly 2,000 meeting attendees and were recognized by Wendy's leadership, alongside special guests: Wendy's TV Crew. Yes, that's right, Toby, Kathryn and Willie joined our GMs for an evening of fun! 
There is so much that happens behind the scenes to deliver on the brand promise, thanks to the leadership of our GMs! 
Supporting Our Suppliers 
Serving up Wendy's favorites to our fans each day wouldn't be possible without our incredible supplier and distributor partners. This year, more than 200 supplier and distributor partners representing global food, packaging and indirect purchasing categories attended the Show Supplier, which was sponsored by Birchwood Foods. The Show provides a great opportunity for franchisees and Company employees to learn more about supplier initiatives, build relationships and network. The generous support of our supplier and distributor partners makes our meeting possible each year. 
Supporting the Dave Thomas Foundation for Adoption during Wendy's Family Night 
During Wendy's Family Night, franchisees, suppliers and distributor partners, along with Wendy's Company, Quality Supply Chain Co-Op (QSCC) employees and our global Top 200 GMs gathered to fundraise more than $1.7 million to support the Dave Thomas Foundation for Adoption®. For 30 years, Wendy's has supported the Foundation and its mission to help find permanent, loving homes for children in foster care across the United States and Canada. 
This year, we invited one of today's top comedic voices, Tom Papa, to emcee the event and entertain us with a special stand-up performance.  
Leadership Awards Gala & Dinner 
On our last night of Convention, we presented our global System's most prestigious awards at our Leadership Awards Gala & Dinner.  
Congratulations to our 2023 Leadership Award Winners! 
Hall of Fame: Pick Lindsay, Owner, Calhoun Management  
Dave Thomas Outstanding Management: Abigail Pringle, Wendy's President, International & Chief Development Officer  
Founder's: Chance Carlisle, CEO, Carlisle Corporation  
U.S. Market of the Year: Seattle/Tacoma DMA 
International Market of the Year: Georgia 
U.S. Partner of the Year: Simmons Prepared Foods 
International Partner of the Year: Bimbo QSR 
Thank You, Wendy's Family 
We're proud to take time during Convention to recognize all that we have accomplished as one Wendy's family. Thank you to the incredible leaders and champions of the Wendy's System. We'll see you next year in Orlando!