Wendy's Mercury Menu: Comfort During Retrograde
Survive Mercury retrograde with four weeks of 'Mercury Menu' deals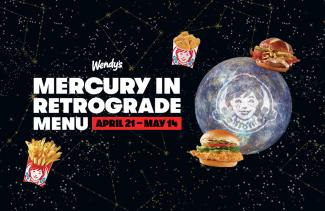 When things go haywire, astrologists know to check if Mercury is entering retrograde. Wendy's® is offering a Biggie™ Bag of comfort to help all the zodiac signs survive the chaos of Mercury retrograde with four weeks of 'Mercury Menu' deals.
What does Mercury retrograde mean?
If you've dabbled in astrology or have a cousin that loves crystals, you may have heard of the concept of Mercury entering retrograde. Three times a year, Mercury appears to travel backwards, or retrograde, causing misfortune on Earth for those looking to the stars. Mercury retrograde is often linked to weeks of snafus – from relationship tension to undelivered messages, or from wrecked travel plans to flat tires. Wendy's is helping fans survive this time of chaos with out-of-this-world 'Mercury Menu' deals.
Wendy's brings BIGGIE comfort during Mercury retrograde
Facing uncertainty because of planetary movements? Choosing Wendy's will be the easiest decision you make during Mercury's retrograde. Clear your brain fog with a Biggie™ Bag of comfort, including four weeks of Wendy's Mercury Menu deals beginning April 21 through May 14. What feels cozier than warm Chicken Nuggets, Hot & Crispy Fries or a Crispy Chicken Sandwich to get you through Mercury in Retrograde?
Mercury retrograde tips for success
Wendy's has your back during this chaotic time. If Mercury retrograde affects your relationships (maybe you regret sending that hangry text?) know that Wendy's can always help smooth things over by taking the guesswork out of mealtime. So, pair your next horoscope reading with craveable Wendy's favorites!
Finding yourself at your local Wendy's restaurant during Mercury's retrograde from April 21 to May 14 is written in the stars. Download the Wendy's app and find Biggie comfort in our Mercury Menu deals:
Friday, April 21 – Sunday, April 23: BOGO $1 Premium Sandwich with purchase*
Monday, April 24 – Sunday, April 30: FREE Crispy Chicken Sandwich with purchase*
Monday, May 1 – Sunday, May 7: FREE 6 Pc. Chicken Nuggets with purchase*
Monday, May 8 – Sunday, May 14: FREE Any Size Hot & Crispy Fry with purchase*
Take Comfort in Wendy's Biggie Value
If you're craving comfort beyond Mercury retrograde, our iconic Biggie™ Bag deals are offered year-round! Enjoy the classics with your choice of:
Junior Bacon Cheeseburger, Double Stack™ or Crispy Chicken Sandwich coupled with 4 pc Nuggs, jr. fries and a small soft drink for only $5**
Crispy Chicken BLT or Bacon Double Stack with 4 pc Nuggs, jr. fries and a small soft drink for just $6**
Showing up for customers is at the heart of what we do every day. One way we have our fans' backs is with our belief that you shouldn't have to break the bank for a high-quality meal. We've been there for our customers with our long-running meal deals and value combo offers, like the Biggie™ Bag and 4 for $4** – providing everyday value meals. While Mercury retrograde might have you on edge, you can always count on Wendy's to have your back.
*With offer in the Wendy's App, account registration and mobile purchase required. Limited time only at participating U.S. Wendy's. Limit one (1) qualifying item per offer redemption. Not valid with any other coupon or offer.  Not valid for delivery orders placed outside of the Wendy's app. See offer in the Wendy's App for further details. 
**U.S. Wendy's price and participation may vary.