What Sauces Does Wendy's Have?
Find out about Wendy's six Deliciously Different® dipping sauces.
Read time: 1 min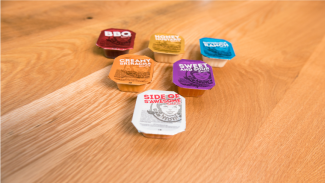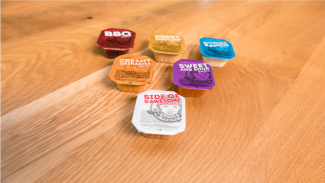 Wendy's® sauces are great for dipping, dunking, drizzling and dousing. They help add that "something special" to your meal and are also a great way to customize your order. Looking to add a little extra heat to your spicy nuggets and wondering what nugget sauces are available? You daredevil, you! Try dipping them in our Creamy Sriracha sauce for an extra kick courtesy of Wendy's, the Queen of Spice. Or, if you're looking to dial down the heat, a touch of Buttermilk Ranch should do the trick.  
What Dipping Sauces Does Wendy's Have?
Wendy's sauce list currently has six dipping sauces you can choose from:
- Creamy Sriracha
- Buttermilk Ranch
- BBQ
- Sweet & Sour
- S'Awesome
- Honey Mustard
Try one (or a combination of a few) of these Wendy's sauces to put a unique spin on your next order.
Wendy's Sauces Ingredients
Our delicious sauces demonstrate our commitment to Fast Food Done Right, as we believe quality is something you can taste and craveability is non-negotiable. That's why we use real spices, like garlic, chili and onion powders, paprika and ground turmeric, to name a few. We also use pantry ingredients you'd use at home, such pineapple juice concentrate in our Sweet & Sour sauce. Ultimately, we strive to create a flavor experience you can only find at Wendy's.
This very mantra was the inspiration behind the creation of our signature side of S'Awesome sauce.
What is S'Awesome Sauce?
S'Awesome sauce is a blend that combines the creaminess of ranch dressing, smoky barbeque, a kick of hot sauce, a hint of honey mustard and a dash of Worcestershire. Originally introduced as a side for chicken tenders, it quickly became a fan favorite, with customers adding it to their burgers. So, we made it official and put it on the menu! This is just one example of the crave-worthy flavors that only Wendy's can bring you.
Check out this inspiration from some of our sauciest fans!
Other Wendy's Condiments
Not a sauce person? Don't fret! At Wendy's, we don't skimp on the classic condiments you might prefer on the side of your sea-salted fries or spicy chicken nuggets. We've got you covered with ketchup, mustard and mayo.