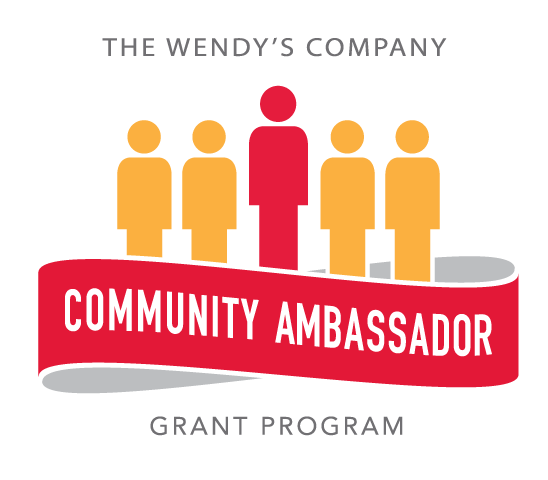 We believe in giving back to our communities and continuing the legacy established by our Founder Dave Thomas. Our core value of "Give Something Back" encourages us to think about the ways we can reach out to others. Now in its sixth year, the Community Ambassador Grant Program helps us recognize employees who are passionately committed to causes they support through their volunteer efforts.
Employees are able to nominate organizations they support for a $2,500 ambassador grant.  It is always a difficult process for the selection committee to choose only 10 grant winners from such an outstanding pool of candidates. 
One employee from this group is then recognized as our Ambassador of the Year and his or her organization will receive an additional $10,000.
We are so proud of the many employees who are leading terrific community projects and working to help others.
Wendy's 2015 Community Ambassador of the Year
James "Jimmy" Behrens
Levittown Fire Department
James "Jimmy" Behrens, District Manager from New York, became involved with the Levittown Fire Department as a cadet when he was just 14 years old because his older brother was involved with the organization and because he wanted to find a way to give back to his local community.
The Levittown Fire Department was founded in 1950 with the mission of providing fire suppression services to the communities of Levittown and Bethpage, NY.  Today, the fire department also provides emergency medical care transportation, fire and safety prevention programs, and offers programs on confined space rescue.  The Levittown Fire Department currently has over 250 men and women volunteers who have received professional training in fire and medical service.
Jimmy is an active member of the Levittown Fire Department and previously served as Lieutenant and Caption for six years.  He answers calls at all hours (when not at work for Wendy's) and also serves on an auxiliary that assists other department members at fire scenes with hot/cold drinks for the team members fighting the fires. 
As an ex-Captain, Jimmy managed over 40 fire department members and trained them in various field related topics.  He's also involved with Fire Prevention Week in October, which is when members of the fire department visit the local schools in the community and teach fire prevention to the students.  Fire Prevention Week wraps up with an open house at the Fire House, so students can attend with their parents and see the house "in action".
We are truly proud of Jimmy's accomplishments and honored to have him serve as our Wendy's Community Ambassador of the Year. The Levittown Fire Department will receive a check for $12,500 in his name.
Wendy's 2015 Community Ambassadors
Holly Hykes
Kinder Key of Nationwide Children's Hospital
Holly is our Manager of State Income Tax & Compliance and became involved with Kinder Key because both of her children have been patients at Nationwide Children's Hospital. 
Kinder Key is 100% volunteer driven by women who want to make a difference in the lives of heart patients in our community.  The women offer support to one another by sharing their stories and showing current heart warriors hope for the future.
Kinder Key holds several fundraisers throughout the year, including Caroling for a Cause, Candles for a Cause, and the annual Denim and Diamonds gala. Together they have raised over $3 million towards the hospital's mission of providing quality health care to all children, regardless of their ability to pay. 
In just the last year, Holly has volunteered on behalf of Kinder Key at the Memorial Tournament, solicited donations for the Denim and Diamonds gala, participated in Caroling for a Cause, and for the 2015-2016 year, she is serving as the Kinder Key Treasurer.  As Treasurer, Holly is responsible for collecting funds from other committees, tracking receipts and expenses, and reconciling funds to the financials provided by the Nationwide Children's Hospital Foundation.
Congratulations, Holly!
Randy Jennings
Colonial Virginia Council Boy Scouts of America
Randy Jennings is a District Manager in our Virginia Beach market and has been involved with the Colonial Virginia Council Boy Scouts of America for 43 years!  He joined Boy Scouts in his youth, earned his Eagle Scout award, and continues to give back to the organization as a Scout leader, committee member, and most recently as a district commissioner teaching and assisting other leaders to improve their mentoring skills.  Randy spends most of his free time assisting in the development of over 2,000 leaders and 5,000 youth.
Randy is proud of the strides scouting has made in recent years to make sure no eager participants are excluded from the program.  In fact, Colonial Virginia is now the home to the largest CoEd Explorer Post in the country with 197 people involved.
Congratulations, Randy! 
Betty Lawrence
Tabernacle of Praise
Betty is a crew member at the Wendy's in Cross Lanes, West Virginia.  She started working for Wendy's in July 2014 and loves her job.
Betty and her husband founded Tabernacle of Praise in 1957.  Over the last four years, Tabernacle of Praise has hosted food giveaways to community members in need.  The food giveaways occur every three months and the food ranges from canned goods to meats to potatoes.  With Betty's help, the Tabernacle of Praise food giveaways serve about 200 families in the Cross Lanes, West Virginia area. 
Betty is most proud of starting the organization's annual Easter egg fundraiser. By decorating and selling over 2,000 Easter eggs each year, Tabernacle of Praise earns around $4,000 and all of the money goes towards purchasing food for the giveaways. 
Congratulations, Betty.  Thank you for all you do for your community and for Wendy's.
Matthew Reis
Columbus Early Learning Center
Matthew works for Wendy's as a Senior Financial Analyst in Marketing & Innovation Finance and has been involved with the Columbus Early Learning Center for three years.
The mission of the Columbus Early Learning Center is to do whatever it takes to deliver the best early learning experiences and family support so every child succeeds in school and in life. 
Matthew became involved with the Columbus Early Learning Center when he was in graduate school at Ohio State.  He joined an organization called Fisher Board Fellows that placed students on the board of directors of local non-profit organizations for a one year fellowship.  He chose Columbus Early Learning Center because he enjoys being around kids and understands the importance that early childhood education plays in child development. 
Matthew supports the organization by being an active and engaged board member, Treasurer, and volunteer.  As a volunteer, Matthew helped the organization move to a new building that is much more suitable for young children.  As a board member, he's been able to guide the organization to a more financially stable environment so that they can continue to support families.
Congratulations, Matthew!
Ryan Royse
HHSCareerConnect
Ryan Royse is a District Manager in our Denver market.  He co-founded HHSCareerConnect almost two years ago with his best friend from high school, Randy. 
Ryan and Randy wanted to create a program that would truly give back to their community and make a difference in the lives of children.  They both had very positive experiences at their Colorado high school, Harrison High School, so in 2014 they proposed HHSCareerConnect.  The purpose of HHSCareerConnect is to provide a safe environment where students can connect with alumni and gain exposure to an array of career options and set goals for their lives after high school.
The alumni members involved in HHSCareerConnect are committed to bettering their community, the local school system, and the future of every child in the program.  With this grant, the organization will be able to advance their core mentoring program and provide additional guidance to the students. 
Congratulations, Ryan!
Ryan Schalles
Always Believe
Ryan is a Customer Experience Manager in our South Region and has been involved with Always Believe for three years.  He was introduced to the organization by the Bogues family at a bowling fundraiser for the Dave Thomas Foundation for Adoption.
The mission of Always Believe is to create a safe place where youth ages 12-18 can learn, grow, and become well-rounded citizens.  The organization aids underserved youth through programs that focus on key components such as education, mentoring, health & fitness, and technology.
Ryan helps Always Believe with their many fundraisers.  He calls local sports celebrities and encourages them to volunteer their time at the fundraisers, assists in planning the annual Always Believe MVP Luncheon, and networks with other local and national businesses to get more people involved in the North Carolina based fundraisers. 
With this award, Always Believe will be able to provide additional support to the Believe & Achieve afterschool program where children can receive a meal, tutoring, and mentoring. This program currently serves 130 youth in the Charlotte area.
Congratulations, Ryan!
Will Shepherd
Columbus Metro - Friends of the Library
Will is our Director of Enterprise Learning and Development and has been involved with Friends of the Library for six years.
Will became a Friends of the Library Board Member in 2010 because he had just moved to Columbus and wanted to get involved in our local community.  Friends of the Library supports the library system in many ways, but the organization's primary focuses are supporting children's reading programs and child literacy. 
Friends of the Library partnered with six local library branch locations to host summer reading camps for early elementary aged children reading below grade level.  More than 425 campers attended these camps. 
Will is currently the Vice President of the Board and chair of the Governance committee.  He has volunteered as part of the summer reading program, has assisted the organization with its ongoing strategic direction and management, and helped develop the Board's Code of Regulations.
Congratulations, Will!
Shelly Thobe
Relay for Life – Olentangy
Shelly Thobe is our Director of Culinary and Product Innovation and has been involved with Relay for Life – Olentangy for five years.
Relay for Life is the signature fundraiser for the American Cancer Society.  Shelly has a personal connection to the American Cancer Society because the organization taught her family how to care for her grandmother who was once a cancer patient. 
Shelly began walking in the Olentangy Relay for Life in 2010.  In 2014, she decided that just walking in the event wasn't enough, so she joined the leadership team.  In 2015, Shelly created a new Relay team, Families for a Cure.  She serves on the entertainment committee and fundraises all year.  In 2015, Shelly's team raised over $2,500 and was awarded the Rookie team of the Year award.
Shelly recognizes that many members of the Wendy's family have been affected by cancer.  She feels lucky to have the ability to fundraise and fight for them.
Congratulations, Shelly!
Christy Webster
Willow Ridge Therapeutic Riding Facility
Christy works at the Dublin Restaurant Support Center as a Facilities Manager.  She has been involved with the Willow Ridge Therapeutic Riding Facility for almost two years and supports this organization because she loves working with animals and adores children.  It's a perfect fit!
Willow Ridge provides equine assisted therapy to children with special needs.  The therapy can help improve muscle development, balance, and hand-eye coordination.  The facility believes skills such as self-confidence and self-discipline in a recreational setting are improved while caring for animals. 
Christy volunteers weekly at the riding facility.  She has prior horsemanship skills, so she is able to work one-on-one with the horses and the children.  Christy teaches the children how to groom the horses, clean the stalls, and also provides full riding lessons based on the children's needs.  In addition to her weekly volunteerism, Christy has been asked to assist with special events because of her horsemanship experience. 
Christy loves volunteering for Willow Ridge because she feels like she is really making a difference in the children's lives. 
Congratulations, Christy!