Wendy's 2021 Corporate Responsibility Report
Sharing Our Corporate Responsibility Activities and Progress Made Last Year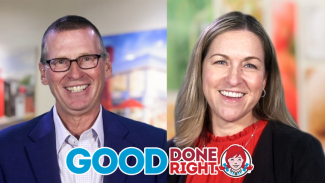 2021 was a year of meaningful accomplishments and milestones at Wendy's®. While we continued to grow our business, we never lost sight of our commitment to drive positive change through our Corporate Responsibility platform, Good Done Right.
That is why we are so excited to release our 2021 Corporate Responsibility report today and share incredible work that has been done against our goals in our key focus areas of Food, People and Footprint, including highlights such as:
Affirming our top 10 priority food categories after completing a third-party lifecycle assessment and defining key metrics to measure progress as part of our Responsible Sourcing goal
Solidifying our five Diversity, Equity and Inclusion areas that we intend to focus on in the coming years 
Reporting our 2020 climate data to CDP, a leading standard for environmental reporting, and are proud to have received a B score on our first submission
Watch our 2021 CSR Report video below to learn more about corporate responsibility at Wendy's and what we accomplished this past year.  
Advancing our corporate responsibility goals is a team effort, and I am grateful for the hard work and dedication from each member of the Wendy's family, including our restaurant team members, Restaurant Support Center employees, franchisees, suppliers and industry partners, that made this possible.
For a more in-depth look into Wendy's corporate responsibility goals and details about our 2021 progress, please visit: www.wendys.com/whatwevalue.