The Avocado Sensation is Delivered at Wendy's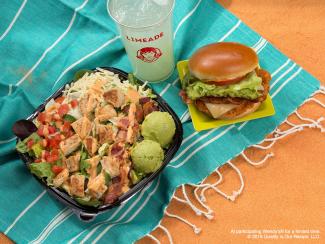 It seems lately that avocados are all the rage. Avocado toast, anyone?
I totally get it. Avocados are cool, creamy, filled with all the good kind of fats – my favorite kind – can be eaten solo or used as a garnish. They're the perfect complement to tortilla chips and they taste great on Wendy's salads and our Spicy Chicken Sandwich.
You've heard right, folks. Wendy's has jumped on the avocado bandwagon, but has done it in a very Wendy's-way with two new quality menu items: Wendy's Southwest Avocado Chicken Salad and Sandwich.
Why Should I Get It?
Because, delicious. You can snag a full-size salad if you're hungry for a blend of 11 different greens, two scoops of avocado, shredded pepper jack cheese, Applewood smoked bacon and freshly diced tomatoes.
Fun Fact: because Wendy's Supply Chain is focused on all-things-fresh, we are proud to deliver heads of romaine lettuce to our restaurants a few times a week along with a healthy helping of spring mix which contains nine different greens (nine!) to create our signature lettuce blend. And we do this, for you, every single day.
Raise your phone if you do all that at home! Bueller…Bueller…? 
If you're looking for something more fun-size, opt for Wendy's Southwest Avocado half-size salad. The perfect solution for devouring something nutritious when you're on the go.
The Southwest Avocado Chicken Sandwich has all these great attributes, too, but instead we've taken our signature Spicy Chicken Sandwich that you love and topped it with crispy Applewood smoked bacon, a slice of pepper jack cheese, a slice of tomato, and top it off with a scoop of creamy, yet slightly-salted avocado.
You can start your order now.  
How Should I Get It?
You should go to your closest Wendy's restaurant, which we're happy to help you find.
Or, if "Salad delivery near me" has ever entered your Google search, and you're in a city where we've partnered with DoorDash, a friendly Dasher can deliver it to you in the comfort of your home, office, or to the soccer field while you watch your kids play ball. Now that's fast food delivery at its finest.
Anything Else I Should Know?
The Southwest Ranch salad dressing is pretty great, too. Our friends at Marzetti are really into cleaning up what's in their dressings and for quite some time have given us special you-can-only-find-it-at-Wendy's salad dressings from their Simply Dressed lineup. Which means the dressings have no added MSG, high fructose corn syrup, preservatives or artificial flavors, and they're gluten free.
And if you're looking for nutritional information on the salad or sandwich, you can find that on our website and in our app. It's important to note that on our nutritional site, we present menu items "fully dressed" which, for our salads, means it includes all the information for what comes on it plus two packets of dressing and any applicable dry toppings that may come with it.
Until next time!