Bacon, Maple, Chicken, Repeat: Wendy's Chicken Sandwich
It's the Crave-Worthy Bite That'll Keep You Coming Back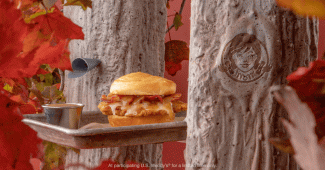 Okay, okay we know what this looks like. You're reading Bacon Maple and thinking breakfast. But close your eyes and picture a hot, crispy Homestyle chicken fillet, topped with natural swiss cheese and three strips of sizzling Applewood smoked bacon, dripping with the savory sweetness of a Maple Glaze made with 100 percent maple syrup. Suddenly, breakfast starts to look a lot like breakfast for dinner, or lunch or that perfect mid-afternoon snack. But we're not done. Throw in the unique croissant bun - the first of its kind at Wendy's - made with real butter. It's perfectly fluffy yet flaky, and we're surprised you haven't already walked through the door at your nearest Wendy's. Simply said, this new sandwich is as comforting as it is satisfying and honestly perfect for whenever the craving strikes. Want something sweet? Looking for something a little savory? Wendy's new chicken sandwich has you covered.
Seriously, you have our full permission to indulge whenever you fancy. We first introduced this sandwich as an idea in 2015 and not a day has gone by where we haven't thought about it. To see it come to life after three years is almost as sweet as the Maple Glaze itself. If we could describe the flavors in two words, they would be delectable and indulgent.
No matter how you choose to enjoy it, the only wrong time to enjoy this delicious masterpiece is when it's too late. The Bacon Maple Chicken Sandwich for $5.60* for a limited time.
* At participating Wendy's for a limited time. Price and participation may vary.