The Beef on The Baconator FAQ
What's on the Baconator? Can I get a Baconator late at night? We've got your questions and cravings covered.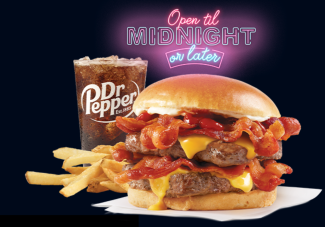 Wendy's® outplays the other guys all day, every day. Two of our menu MVPs are our square fresh, never frozen* beef patties and our Applewood smoked bacon. In a stroke of culinary genius, we combined these two fan-favorite items and the Baconator® was born. 
What comes on a Baconator? 
We start with two fresh, never frozen beef hamburger patties with piping hot American cheese melting between them. Then we add bacon – six delicious strips of Applewood smoked bacon, to be exact. 
We love Applewood smoked bacon because it captures the delicate balance of salt, sugar and savory Applewood smoke. We stack everything atop a perfectly soft premium bun, add ketchup and mayonnaise, and serve it up perfectly hot and juicy.  
The Baconator vs. Son of Baconator®  
Our Baconator is so good that we created the Son of Baconator in 2011. Son of Baconator follows our same delicious Baconator recipe, but with fewer calories because we use smaller fresh, never frozen beef patties and four strips of bacon instead of six. For fans with a slightly smaller appetite, the Son of Baconator is just as delicious as the OG Baconator.  
Your Late Night Wendy's Favorites  
What's better than our culinary masterpiece, the Baconator? The juicy glory of this "carnivore-forward" hamburger available late at night. To satisfy those after-hours cravings, Wendy's drive-thru is now open until midnight or later.** At the top of the list of nocturnal noshes is our Baconator. For the ultimate midnight meal, pair this cheeseburger dream of layered bacon goodness with late-night favorites like Hot & Crispy Fries or Chicken Nuggets. Come through for yours anytime, day or night.   
What's on a Breakfast Baconator®? 
For those who just can't get enough of the Baconator, head to Wendy's in the morning for a Breakfast Baconator. We take freshly grilled sausage and top it with melted American cheese and crispy Applewood smoked bacon. Next, we pile on a grilled fresh-cracked egg, even more bacon, and cover the whole thing with our signature cheese sauce. It's pure Baconator bliss for your morning.  
What does it mean to "Baconate"?  
 "Baconate" is our way of saying, "make everything better." Our late night hours are our way of Baconating after dark and being there for our fans when they need us most. We Baconated our Fries, too. Go all-in on Wendy's bacon with our Baconator® Fries. Wondering what's on Baconator Fries? Picture this: Hot & Crispy fries and layered warm, creamy cheese sauce, shredded cheddar and Applewood smoked bacon (of course) on top.   
From classic favorites to innovative introductions, make Wendy's your go-to for satisfying your cravings whether it's morning, noon or late night. Download the Wendy's app and head to your nearest restaurant or drive-thru to grab a Baconator, anytime the craving strikes.  
*Fresh beef available in the contiguous U.S., Alaska and Canada.  
**Hours may vary at participating Wendy's. 
Dr Pepper is a registered trademark of Dr Pepper/Seven Up, Inc.