Baconator: A Multi-Sensory Masterpiece
Read time: 1 min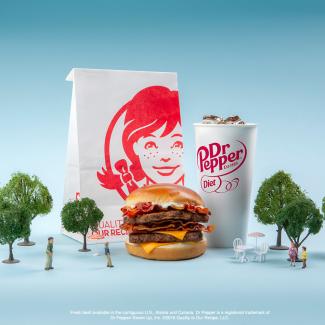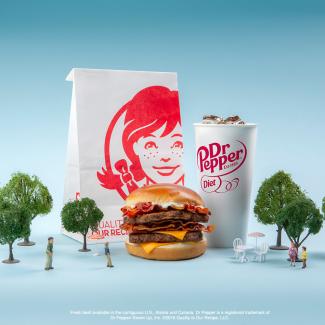 What's better than one fresh, never frozen* beef hamburger patty?
Two.
Two fresh, never frozen beef hamburger patties.
…with piping hot American cheese melting between them.
What's better than two fresh, never frozen beef hamburger patties with piping hot American cheese melting between them?
BACON.
Six delicious strips of Applewood smoked bacon, to be exact.
Applewood smoked bacon that captures that delicate balance of salt, sugar and Applewood smoke from the smokehouse because it's fried in its own juices in the pan.
Layer these six strips of bacon between two fresh, never frozen beef patties with piping hot melted cheese, stack it all between a perfectly soft, but not too soft, bakery bun, add ketchup and mayonnaise and you get?
The Baconator. The perfect BACON cheeseburger eating experience.
Because let's be honest: eating a double cheeseburger is the best way to eat a cheeseburger. Anyone who says otherwise is sadly mistaken. Double cheeseburgers squeeze the cheese in the middle of the hamburger, so it's deliciously hot and melty.
That's why, for a decade, Wendy's more "carnivore-forward" customers have unwrapped our signature Wendy's foil to reveal a multi-sensory, meaty masterpiece that stands in all its juicy glory as the standard by which we make the rest of our food.
We "Baconate" our new menu ideas, so to speak.
We Baconate (aka our verb which means to make everything better) everything we do inside and outside of the Wendy's test kitchen. I'm pretty sure I was Baconating in a tasting last week while we were trying to decide which new sandwich we want to launch next.
Baconator is so good, in fact, that we created Son of Baconator in 2011 because, well, it's more fun to eat a Baconator twice a week. Son of a Baconator is the same basic recipe, just with fewer calories because we use smaller fresh, never frozen beef patties and four strips of bacon instead of six.
Speaking of beef.
Some people might think our always fresh beef is magic (it's certainly magical), but it takes a lot of time and effort to make sure we provide our restaurants and customers with the safest, high quality beef possible. Baconator (and its Son) exist because of a sophisticated supply chain that ensures our commitment to quality.
We work with a select group of beef companies who share in this commitment, and we're closely connected to our supply chain throughout the entire process. As the meat gets closer to becoming the iconic square Wendy's patty, our quality assurance team gets even more involved.
They visit each ground beef supplier to ensure the supplier follows our specifications for safe beef. Our suppliers make sure our patties are the correct weight, have the right combination of lean and fat, and are packaged to maximize quality.
Sarah from our Quality Assurance team elaborates on this in this blog.
That's how our beef becomes the delightful foundation for creations like the Baconator.
Which – you have to admit – is the best way to eat a double BACON cheeseburger.
*Fresh beef available in the contiguous U.S., Alaska and Canada.