Wendy's Top Roasts from National Roast Day 2023
Wendy's is back for another round of roasts, and no one is safe. Here are the best roasts from National Roast Day 2023…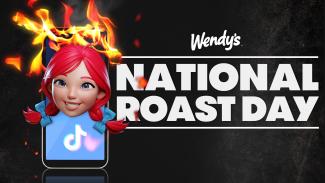 Back in 2018, we created a totally real holiday called National Roast Day. Each year, we invite our fans to get roasted by @Wendys, and the flaming hot grill sessions never disappoint. While we take our food seriously, National Roast Day is all about bringing the heat for a whole lot of laughs, and it's become a cherished tradition for our fans.   
Just like our hamburgers, we're always keeping things fresh. That's why this year, we turned up the heat on TikTok, creating a brand-new way to engage with fans and to roast the ones we love most. For the first time in history, we dished out roasts with a brand-new vocal animated version of Wendy herself to spice things up. Brave brands and fans alike lined up to be #roasted by everyone's favorite redhead for three consecutive days. 
In case you missed it, check out some of the sickest burns from National Roast Day:  
National Roast Day is not for the faint of heart – no one, and we mean no one, is safe. We hope you enjoy the burns as much as we did. Craving more #NationalRoastDay content? Follow @wendys on TikTok!