How Wendy's is developing its next generation of leaders
WeLEAD leadership program arms participants with tangible tools to apply on the job
Read time: 1 min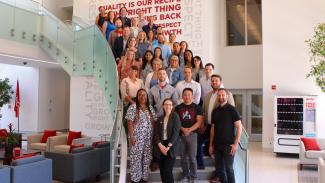 WeLEAD, a new comprehensive leadership program at Wendy's based on the Company's five Leadership Success Factors, arms participants with tangible tools to apply on the job.
Our people are the key to Wendy's success – and one of our greatest points of differentiation. We are focused on building a performance-driven culture and developing talent at all levels throughout our organization.
That's why we've established WeLEAD, an intensive small-group training focused on essential leadership skills. WeLEAD is rooted in Wendy's five Leadership Success Factors: Inclusive Mindset, Develops Self and Others, People Effectiveness, Business Focused and Results Driven. The curriculum is designed to emphasize Wendy's "people first" approach to business so that participants graduate ready to make a difference. Each WeLEAD semester kicks off with a cohort of no more than 30 participants. These participants include a wide array of corporate and restaurant leadership and are nominated by their functional leadership teams.
"WeLEAD was developed to kickstart individual leadership journeys through customized learning experiences," says Jamie Weeks, Vice President of Training. "Over the course of the six-month program, participants complete a set of core learning experiences that are central to the curriculum, as well as ones that reflect individual interests and career direction."
The inaugural WeLEAD cohort started in January 2022 and graduated in June. Wendy's second WeLEAD cohort began their journey in July 2022 and will complete the course in December. Following graduation, participants enjoy access to continued learning opportunities.
To understand how WeLEAD is developing Wendy's next generation of leaders, we caught up with two members from our first cohort and one of our WeLEAD program sponsors, John Li, Vice President, Culinary Innovation:
What is the most valuable thing you have learned through WeLEAD?
P.J. Cheripka, Franchise Operations Coach: "To be vulnerable about your opportunities. We all like to think the best of ourselves, but being able to say, 'Am I really great at this, or can I stand to improve, and what impact does that have to the business?' opens up the opportunity to truly learn at the highest level."
How can future WeLEAD participants best benefit from this unique experience?

Lindsey Smith, Manager, Merchandising: "Put the effort into it. Take the time. Do a lot of self-reflection after each module and guest speaker. Take notes while they're there.  Reflect on those notes and figure out how you can start applying the skills and experiences they've shared to your everyday world now."
What do you hope participants take away from the program?

John Li, Vice President, Culinary Innovation, and a WeLEAD sponsor: "I hope they apply what they've learned daily. After six months, I've seen participants immediately applying their learnings to their businesses and the projects they're working on. I love seeing that. You can't do it all at once – it's like drinking from a firehose – but if they start applying tools, little by little they'll see it truly works. Next thing you know, they've built a repertoire of skills and experiences that will make them the well-rounded leaders we're hoping they'll become."