Ding, Dong! Wendy's Delivery is Expanding
Searching for "Lunch Delivery Near Me"? We've Got Your Back.
Read time: 1 min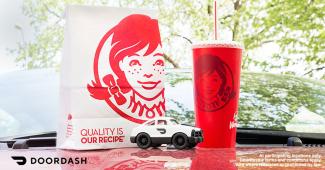 Research of popular Google search terms proves it: Food delivery is an exploding consumer segment.
And how about these facts…
"Food Delivery Near Me" is searched between 118,000 – 300,000 times a month.

In a survey conducted in November 2017, 51 percent of total U.S. diners and 77 percent of Millennial diners ordered delivery food either from a restaurant or a third-party delivery service.+
Fast food delivery is not only exploding in North America, but it's also a huge area of growth for Wendy's. Why? Because Wendy's delivery helps expand our borders beyond the brick and mortar of our restaurants.
Let's be real, who doesn't want a spicy chicken sandwich combo with Sprite delivered to their home at 11 AM on a Sunday morning?
We're excited to meet customers where they are – and on their terms – with two fantastic food delivery companies. In the United States, we've partnered with DoorDash, the technology company that connects customers with the best local businesses through door-to-door delivery. And in Canada, we've chosen Skip the Dishes to bring Wendy's favorites to our customers up north.
Wendy's announced its first delivery partnership with DoorDash in December 2017 after piloting delivery across restaurants in Dallas, Texas and Columbus, Ohio. On average, orders were delivered in about 30 minutes and two of Wendy's signature menu items – the Baconator® and Frosty® – proved to be fast delivery favorites on DoorDash.
Similar items are fan favorites in Canada, too! Canadians favorite the Bacon Deluxe and Frosty when ordering through Skip the Dishes. 
Wendy's evaluated multiple platforms when we began exploring food delivery, but ultimately chose DoorDash and Skip the Dishes because they excel in customer service and satisfaction, and we've found these companies deliver the type of quality you'd expect going through the drive through yourself.
Wendy's Delivery is Expanding
Between DoorDash and Skip the Dishes, off-premise dining through door-to-door delivery is currently offered at 40% of all Wendy's restaurants in the U.S. and Canada. Roll out of delivery has outpaced our original expectations, so we're turning up the heat! We now expect DoorDash to service 60% of Wendy's U.S. restaurants by year end, and 75% in Canada with Skip the Dishes.
From a business and economics standpoint, our customers are craving the convenience that comes with food delivery, but what's most important to us is that our customers are happy, and we feel good about their experience – Wendy's overall satisfaction scores are coming in about 4.5 out of 5 stars in the DoorDash app.  
As Wendy's delivery grows, we're putting focus on bringing more awareness to the high-quality, reliable fast food delivery experience DoorDash brings to our customers throughout the remainder of 2018. As you can imagine, the more people know about it, the more they want to use it. And now, during college football season, customers can get $0 deliveries through DoorDash!  
See the small font for details* ?
Wendy's Delivery Is a Growth Driver
Our data also tells us that customers continue to order through DoorDash time and again at rates well above our expectations.
We think this trend will only continue with the recent launch of DoorDash's subscription service called DashPass. DashPass helps customers save money by offering unlimited access to hundreds of the best local and national restaurants in your area, with $0 delivery fees on orders of $15 or more for just $9.99 per month.
This is just the beginning of food delivery from Wendy's – a whole new way that our customers will be able to access and enjoy our delicious food without having to leave the comforts of home.
* Free delivery by DoorDash with any $10 minimum order Friday-Sunday thru 12/2.  At participating Wendy's in select markets. Prices may be higher than in restaurant. Promotion may be modified or terminated at any time.
+ Source: The Why? Behind The Dine™ 4th edition, published by Acosta.