Eating Low Carb at Wendy's
How to Order Low-Carb, Keto-Friendly Options at Wendy's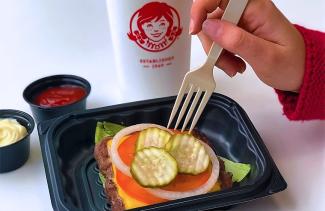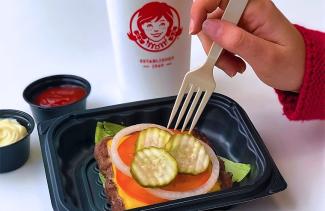 It's February, and while you may have started out the new year with a strong resolve to eat better, sometimes it's hard to stay on track. You already have countless decisions to make and things to do. Using a calculator to figure out if something will fit into your low-carb or keto diet shouldn't be required. What you eat should make you feel good about yourself, not be a source of stress.  
Wendy's knows that a day that starts and ends with the right personal food choices. We want you to maintain your momentum. That's why we decided to do some of the math for you. 
For all of you low-carb, high-protein enthusiasts out there, we would like to offer some of our favorite low-carb and keto-friendly menu hacks. Whether you are trying to meet very specific diet criteria, or simply have a craving for something that will hold you over until dinnertime that doesn't include all the carbs, our menu is loaded with items and hacks to help you stick to your 2019 resolutions.  
Say Hello to Low-Carb and Keto-Friendly Food Delivery
Yep, low-carb and/or keto menu options at Wendy's are possible, and we love it! Plus, thanks to our partnership with DoorDash, the on-demand destination connecting customers with their favorite restaurants through door-to-door delivery, getting custom meals from Wendy's delivered directly to your home has never been easier. * Place an order for your resolution-friendly meals from Wendy's by visiting DoorDash.com or using DoorDash's mobile app.
You Can Order "No Bun" or a Lettuce Wrap at Wendy's
Before we get to hacking the menu, we're going to let you in on a little secret. It's possible to ask for no bun when you order a cheeseburger or sandwich at Wendy's. What you'll get is all the yummy meat and produce (when applicable) without the bun. It'll come in a side container along with a fork and knife. Make sure you ask for your desired condiments on the side. If you want your sandwich in a hand-held form, be sure to ask that it's made as a lettuce wrap.
Low-Carb Menu Options
Working hard to cut carbs? Here are some suggestions.
- Our Southwest Avocado Chicken Salad is loaded with good fats from avocados and only has 18 grams of carbs in the full size and 10 grams in the half size. That includes dressing, too.
- Order a Dave's Double® as a lettuce wrap (or no bun) and enjoy a Wendy's fresh, never frozen, hamburger** with only 8 grams of carbs.
- Craving chicken from Wendy's instead? The Asiago Ranch Grilled Chicken Club as a lettuce wrap (no bun) swap serves up only 3 grams of carbohydrates.
- Finally, by making a simple change to swap the fries in your combo for a small chili would add only 19 grams of carbs to your meal versus 43 grams of carbs in a small fry.
It's often said, little changes can have a big impact.
Keto-Friendly Menu Options
Down for something on the Ketogenic side? We understand from a variety of external sources that the Keto diet subscribes to crafting your meals around certain calorie percentages of fat, protein and carbs. While the ranges may vary for you, here are some of our favorite items that may fall in line with the ranges you're looking to hit when you're counting macros. 
- When you order the Dave's Single® as a lettuce wrap (no bun) and hold the onion and ketchup, your calorie percentages look like this: 72% fat, 23% protein, 5% carbs
- For double the beef, order a Dave's Double as a lettuce wrap (no bun) and hold the onion and ketchup: 69% fat, 27% protein, 4% carbs
- Bacon lovers can order the Baconator® as lettuce wrap (no bun) and add lettuce, pickles, tomato and avocado: 69% fat, 26% protein, 5% carbs
While we're not advocating for one diet over another, we're realists and understand you may be searching for a listing of menu items that have already been hacked from your favorite fresh, never frozen beef hamburger restaurant.
We hope you enjoy everything on our menu and find customization to be pretty easy.
And if you're interested in other ways to personalize your order at Wendy's, visit order.wendys.com, select a menu item and click 'Customize It'! If you're just interested in learning about nutrition and allergens at Wendy's, visit menu.wendys.com, click on a product category, click on a menu item and click the hyperlink to view the "Nutrition & Allergens" list.
---
Nutrition information is based on standard product formulations and may vary due to suppliers, ingredient substitutions, recipe versions, restaurant product assembly and seasonality. 2,000 calories a day is used for general nutrition advice, but calorie needs vary.
* Delivery through DoorDash available at participating Wendy's locations. See DoorDash for additional details. DoorDash is a registered trademark of DoorDash, Inc.
* * Fresh beef available in the contiguous U.S., Alaska and Canada.