Wendy's Shows the Love with 2 for $6
Love at First Bite: Wendy's 2 for $6 Meal Deal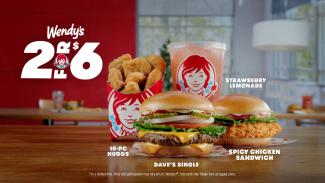 There's always romance in the air come February, and this year is no exception. Wendy's® is playing matchmaker with an unforgettable deal guaranteed to have you falling in love all over again with Wendy's favorites.  
Scrap the pricey roses and chocolates. Ready to swipe right on your own flavor match? 
What's the 2 for $6 Deal?  
We know our fans crave speed, convenience and quality, which is why we don't cut corners on our menu. Our food vision, Fast Food Done Right, means you don't have to pay more for a fresh-made, flavorful meal when you visit your local Wendy's.  
Wendy's new 2 for $6* deal allows fans to play matchmaker and unite beloved menu items for the ultimate, craveable pairing—all without breaking the bank. 
Now, let's meet the favorites that will be competing for a spot in your 2 for $6: 
Dave's Single®
The one that started it all. Featuring Wendy's fresh, never frozen** square beef patty, complemented by creamy American Cheese for the perfect savory combo. This classic is there for you when you've been betrayed by one too many clowns in the past. 
10 pc. Chicken Nuggets
Nothing cures heartbreak like Chicken Nuggets, am I right? Pairing these our 100% white-meat chicken nuggets with flavorful sauces like Ghost Pepper Ranch or BBQ, these bites are the perfect dip back into the dating pool. 
Spicy Chicken Sandwich
If your winter's been a little frigid, the Queen of Spice is here to help heat things up. You can't go wrong with juicy chicken breast marinated and breaded with Wendy's fiery blend of signature spices, delivering more flavor inside and out.  
Medium Strawberry Lemonade
There's nothing wrong with being a little thirsty, especially when you've got a drink this good to sip on. Wendy's all-natural lemonade flavored with real strawberries creates one sweet beverage to wash it all down. 
Looking for a little matchmaking inspiration? Here are a few classic pairings that are sure to deliver:   
Sweet & Savory:  Dave's Single Paired with Strawberry Lemonade 
Not only do opposites attract, but they also satisfy taste buds on both ends of the spectrum. 
Perfect Date: Chicken Nuggets Paired with Spicy Chicken Sandwich 
Ideal for chicken fanatics, this duo offers up a little spice for a satisfying date night. 
If you're already fantasizing about these matches, we have good news for you: Wendy's 2 for $6 is available NOW so you can celebrate getting your hands on the 2 for $6 through April 9—lucky you! 
Head to your nearest Wendy's restaurant or place an order on your Wendy's app to fulfill the desires of your heart and your appetite.  
*Limited time only.  Price and participation may vary at U.S. Wendy's.  A la carte only.  Single item at regular price. 
**Fresh beef available in the contiguous U.S., Alaska, and Canada.