Get the Best Food Deals Right Now On the Wendy's App
Download Now for Access to these Great Fast Food Offers for Breakfast, Lunch or Dinner
Read time: 1 min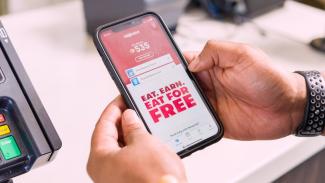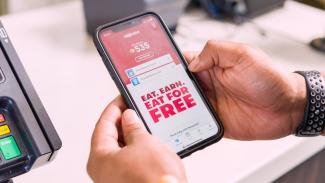 Let's be honest—we know our fans want their Spicy Nuggs and Frosty® treats as quickly and seamlessly as possible, and what's more convenient than placing your order via the Wendy's® mobile app? And, because you might be asking questions like, "Where can I get the most food for $5?" and "What are the best fast-food deals?", the Wendy's app has you covered with plenty of offers perfect for breakfast, lunch or dinner, including a limited time $1 biscuit offer. Don't worry, this isn't a dream!
When you use the Wendy's app to place a mobile order, we know craveable fast food deals are likely on your mind. From breakfast deals to combo meals, be sure to check out some of our great offers* available now:
Looking for the ideal way to wake up this November? Wendy's has your back with our $1 Sausage, Egg and Cheese or Bacon, Egg & Cheese Biscuit offer*. We're talking Wendy's fluffy, Southern-style biscuits made with real buttermilk, topped with fresh-cracked egg, oven-baked Applewood Smoked bacon or savory sausage made with crushed red and black pepper, and sage for the perfect kick, topped with melted American cheese for just. one. dollar. Simply order online, via the Wendy's mobile app or head to your nearest Wendy's restaurant to seize the day the right way. 
FREE fries? Sign us up! In honor of National Fast Food Day on November 16, we're offering a free any size Hot & Crispy Fry with any purchase offer via the Wendy's app.**
If you're looking for more fry-licious deals, you can also snag any size of Wendy's new Hot & Crispy Fries for just $1 through the month of November via the mobile app.** The offer refreshes weekly, meaning you can get $1 fries every. single. week—can we get a fry-YAY?!

Pro Tip: Check the app every Friday the rest of the month for other sweet deals. Hint, hint: they involve a free sandwich and some upcoming bonus Rewards points** with any order of our new Hot & Crispy fries.

Craving something a little sweeter? Lucky for you, Wendy's Season of Giving is in full swing, which means our beloved Frosty Key Tags are officially back and better than ever. Simply purchase a Key Tag at participating U.S. Wendy's locations or via the mobile app*** for just $2 now through January 31 to receive a FREE Jr. Frosty with any purchase*** through 2022. That's not even the sweetest part—proceeds from Frosty Key Tag sales go directly to the Dave Thomas Foundation for Adoption® (DTFA).****
Because we're constantly looking for new ways to make the Wendy's experience as accessible and convenient as possible, you can now enjoy these offers via our new scheduled pick-up option! For those in a hurry, customers can choose this carryout option so their order is ready ASAP or at a specified, pre-scheduled time. It's that easy!
So, browse these offers, find your nearby location, place an order for pick-up at the drive-thru, or have your breakfast, lunch or dinner delivered***** all through the Wendy's app. Happy ordering!
*Limited time only. U.S. price and participation may vary. Not valid in combo. Limit five qualifying items per transaction. Excludes Honey Butter Chicken Biscuit. Third-party delivery prices may vary. Check your local Wendy's for breakfast hours.
**At participating U.S. Wendy's.  Excludes Topped Fries and Seasoned Potatoes.  Not valid within combo or with any other offer. Offers must be redeemed via the Wendy's app.  My Wendy's™ account registration and use required to earn points and redeem rewards. Not valid for delivery orders placed outside of the Wendy's app.  See offer in Wendy's app for further details. Points have no monetary value.  See www.wendys.com/rewards for details.
***Wendy's app download and account registration required to purchase and redeem the digital Frosty Key Tag though the Wendy's app. Digital Frosty Key Tag will be automatically added to user's account immediately upon purchase. Not valid within combo or with any other offer. Offer refreshes hourly and is only valid for one use per order with any purchase until 12/31/2022.
****At participating U.S. locations. 85 percent of every $2 Frosty Key Tag sold from 11/1/2021 to 1/31/2022 will benefit the Dave Thomas Foundation for Adoption. Key Tags valid from 1/1/2022 – 12/31/2022. Not valid within combo or with any other offer. One free Jr. Frosty per visit with any purchase. 
*****Delivery available at participating U.S. Wendy's.  Delivery and service fees may apply.  See Wendy's app for details.