Wendy's Brings the Heat with New Ghost Pepper Menu Items
Next level spicy offerings: The Ghost Pepper Ranch Chicken Sandwich and Ghost Pepper Fries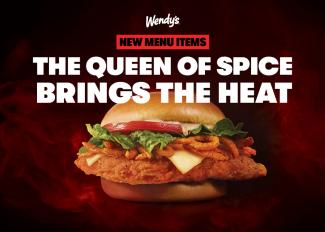 Feeling spicy? Discover two fiery new menu items from Wendy's®: the Ghost Pepper Ranch Chicken Sandwich and Ghost Pepper Fries. Then, cool off your tastebuds with a fan-favorite Frosty®. Whether you're looking to dial up the heat or chill out this summer, Wendy's has your back! 
Wendy's Newest Ghost Pepper Ranch Chicken Sandwich 
As the reigning queen of spice, Wendy's continues to bring the heat. But we don't create heat just for the sake of heat. Instead, we strike the perfect balance of spice, while also creating items that are packed with flavor. The new Ghost Pepper Ranch Chicken Sandwich takes our signature Spicy Chicken to the next level with ghost pepper infused American cheese, ghost pepper and ranch seasoned crispy onions, lettuce, tomato and a creamy ghost pepper ranch sauce, made with fresh herbs. That's four layers of unbeatable heat, kept in check by delicious ranch flavor! 
Welcome the New Ghost Pepper Fries 
For thrill seekers looking to double down on spice, the new Ghost Pepper Fries are a must. Made with Wendy's natural-cut, Hot & Crispy French Fries, our Ghost Pepper Fries are coated in a unique spicy fry sauce for the ultimate flavor upgrade that you won't want to go ghost on. They're the perfect crispy complement to our Ghost Pepper Ranch Chicken Sandwich.  
Don't Forget Wendy's Signature Spicy Favorites 
You can also dial up the heat this summer with our one-of-a-kind Spicy Chicken Nuggets or our original Spicy Chicken Sandwich. Try them with our Ghost Pepper Ranch dipping sauce on the side to up the ante on heat. 
How to Balance Heat & Flavor 
If all this spice is making you sweat, never fear, the Strawberry Frosty is making its sweet return. Made with real strawberry puree, our iconic Strawberry Frosty delivers a refreshing taste of summer in every spoonful. This limited-edition treat is like the perfect summer fling, so make sure to enjoy it while it lasts. Or try pairing our spicy offerings with one of our Dave's Craft Lemonades – the sweet and tart notes of these beloved lemonades help balance the heat. To tame the heat with every bite, add a side of our Ranch sauce to drizzle on your Ghost Pepper Ranch Chicken Sandwich or for dipping your Ghost Pepper Fries. 
From a returning fan favorite to a duo that's sure to turn up the temperature, we have everything you need to enjoy the ideal balance of sweet and spicy. Download the Wendy's app and head to your nearest restaurant to try out our new menu items so you can enjoy bold, fresh flavors all summer long! 
Limited time only at participating U.S. Wendy's.