Wendy's Launches Pop-Up Experiences for Hot & Crispy Fries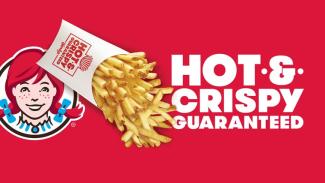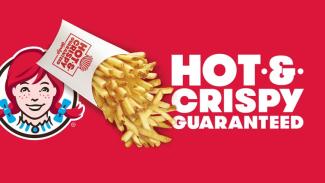 I'll never forget my first bite of our reimagined Hot & Crispy French Fries. I knew we had a winner instantly and my hunch was confirmed when I devoured the entire carton in our test kitchen. And while our new fries look like your standard French Fry, they're anything but average. We started this journey with the understanding that our French Fries were good, but why settle for "good" when you can be great?
It's no secret fries are the cornerstone of a good, well-rounded fast-food experience, and at Wendy's®, we knew our customers deserved better than the cold, soggy spuds they came to expect—and tolerate—from competitors. This is what motivated us to really double down on fries, delivering a revamped recipe that's quite literally a cut above the competition – Wendy's Hot & Crispy Fries were preferred nearly 2:1 to McDonald's French Fries in a national taste test.*
And to prove our point – that no one should ever settle for a less than stellar French Fry – we're going all out. We spread the word about Wendy's fries with a big, bold billboard placed right where it matters most: The Silver Arches' hometown of Chicago, IL.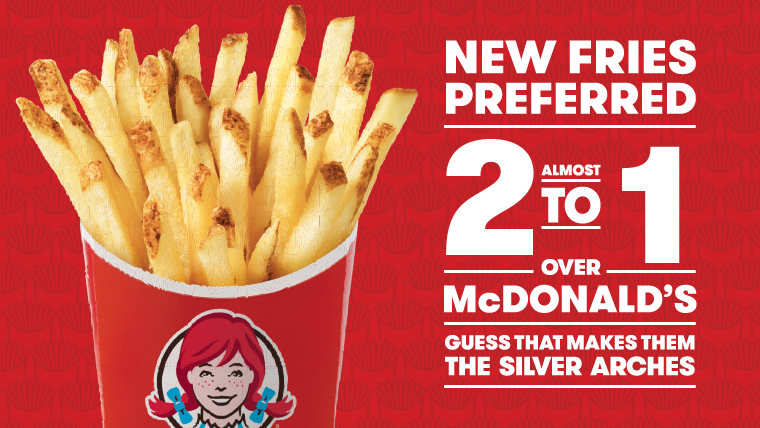 We're not stopping there—to show fans just how seriously we take our fries, we recently debuted our Hot & Crispy Guarantee.** If your fries aren't hot and crispy, we'll replace them, no questions asked. We're even encouraging guests to try their fries before they drive away from the pick-up window to ensure their fries are both hot and crispy. That's how serious we are about delivering a delicious, hot and crispy experience in every single order.
Not only are we serving up the hottest and crispiest fries nationwide, but we're drumming up the excitement—spooky style—for a fry-ghtfully delicious time! Our marketing team collaborated with our amazing agency partners to spread the word that the scariest thing this Halloween season is, in fact, a cold and soggy French fry.
Cold, Soggy Fries Are a "Fryght"!
Let's be honest—cold, soggy fries are disappointing – and some might even say they're frightening. Our "House of Fryght" immersive, Halloween experience in Jacksonville, FL is based on the "fryght" you encounter when you eat a less than stellar fry that leaves you sad and disappointed. This unique take on a haunted house highlights sad (and spooky) soggy fry experiences with plenty of scares from a Mad King, creepy clown and haunting jack-o-lanterns. Those who dare to complete the entire experience will receive the tastiest reward of all: Hot & Crispy Fries.
For any fans in the Jacksonville area, mark your calendars for Wendy's House of Fryght thrills and chills galore through Halloween:
Thursday, Oct. 28: 3:00 pm-10:00 pm ET
Friday, Oct. 29: 3:00 pm-10:00 pm ET
Saturday, Oct. 30: 8:00 am-10:00 pm ET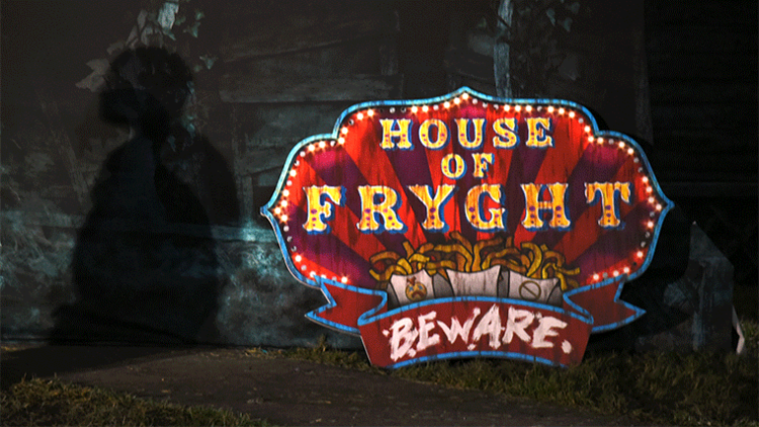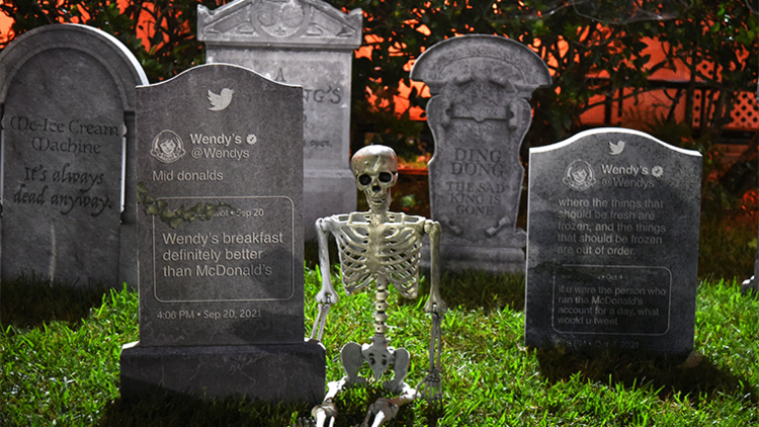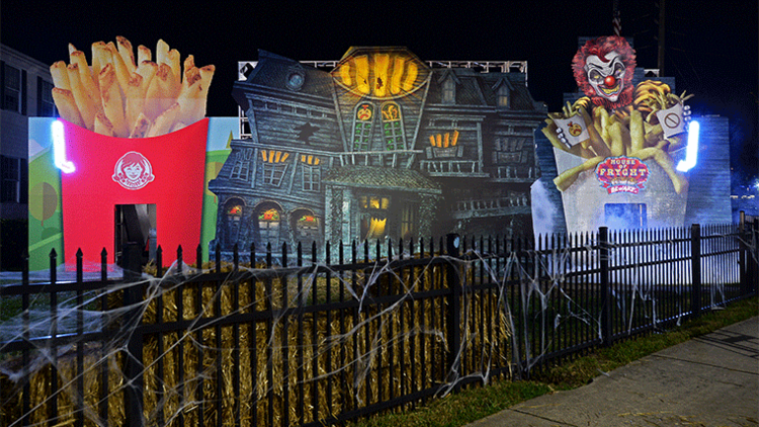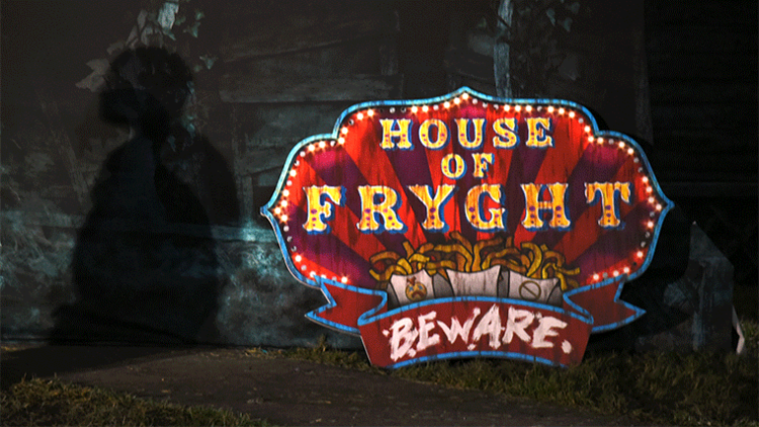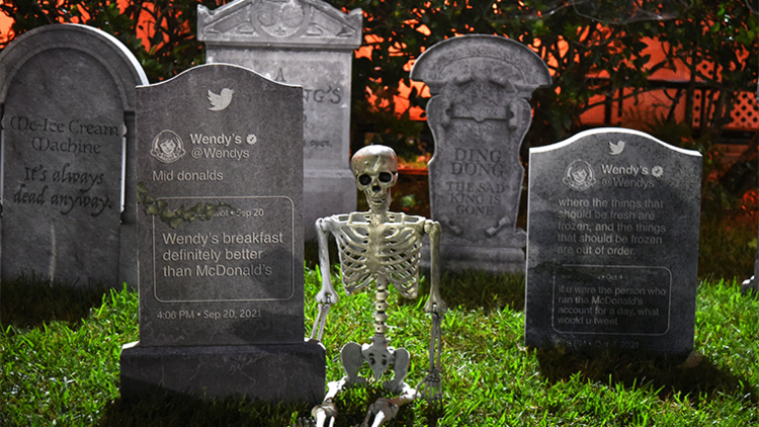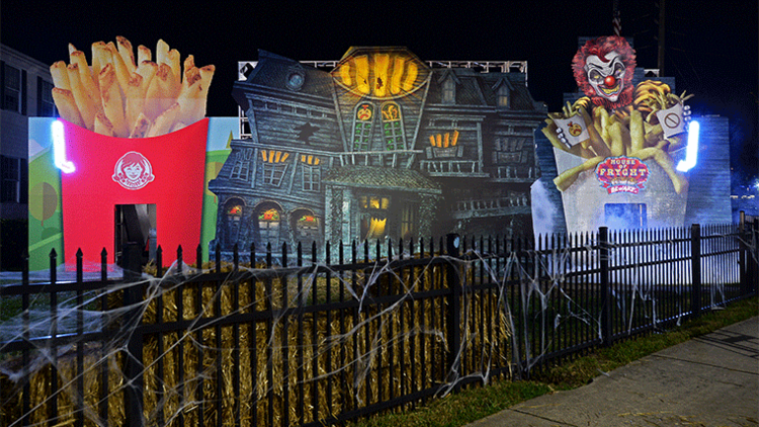 Happy Hallo-Weendy's!
Because our new Hot & Crispy Fries are a cut above the rest, they deserve to be celebrated VIP style. We took the Hot & Crispy excitement to new heights hosting a signature Hallo-Weendy's Happy Hour rooftop soiree at the Concourse Club in Wood-Ridge, NJ with some of our most loyal fans. The evening paid homage to all things salty and sweet from Hot & Crispy Fries to simply refreshing Dave's Craft Lemonade beverages—no tricks, just plenty of treats!
Attendees had the opportunity to create their very own custom designed pumpkins in the Hot & Crispy Pumpkin Patch, pose for sweet or salty portraits, capture fry-licious photo moments and indulge in the latest and greatest bite-sized treats from the Wendy's menu.
Our Hot & Crispy Fries are available nationally via Wendy's drive-thru, contactless pickup via mobile order or through delivery with Wendy's app, DoorDash, Grubhub, Postmates and Uber Eats. So, head to your nearest Wendy's, place an order through our mobile app or your preferred delivery partner to get your fry on! Pro Tip: You can snag a FREE (yes free!) any size fry on Wendy's orders $15 or more via Grubhub now through November 7.***
These are just a few of the ways we're sending our customers plenty of treats (and a few tricks) this Hallo-Weendy's season. And don't forget—you can earn points toward your favorite Wendy's items with Wendy's Rewards™ via our mobile app.
*Taste preference based on a national taste test by an independent research company.
**The Hot & Crispy Fry Guarantee is only available at U.S. Wendy's restaurants. If Wendy's new fries are not hot & crispy when you receive them, bring them back and we'll replace them.
***Offer valid 10/25/21 – 11/7/21. A la carte only. Taxes and fees still apply. Order min of $15 before taxes and applicable fees. Valid at participating Wendy's U.S. locations only, where Grubhub is available. Exclusions may apply.