Hot Breakfast Is Served: Wendy's Breakfast Q&A 
How the Wendy's Culinary Team Made the Best Hot Breakfast Served Near You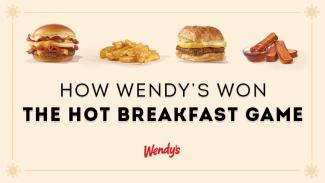 For years, fans begged Wendy's® to get back into the breakfast game.  As we began to make those dreams a reality, we focused on serving a fresh-made, hot breakfast that is not only convenient and affordable, but also full of mouthwatering flavor.  After experimenting with and tasting hundreds of options, we were finally ready to debut our morning daypart.
A breakfast worth waking up for officially made its way to Wendy's menus nationwide in March 2020 and launched in Canada in May 2021.  The new menu brought the best of the Wendy's rest of day menu, with a fresh twist on familiar flavors, to fans' morning routines.
In honor of National Hot Breakfast Month this February, we visited the Wendy's culinary test kitchen to talk with Vice President of Culinary Innovation John Li about Wendy's winning recipe for a better breakfast menu.
How did the Wendy's team design a truly better breakfast?
When our culinary team began creating the breakfast menu, we knew we were up against plenty of existing competition.  To stand out in a sea of sameness, we created signature menu items that put flavor and quality at the forefront.
All our sandwiches are freshly prepared, meaning we aren't pre-making sandwiches and placing them in a warmer for when they are ordered.  Quality ingredients are key to our breakfast, lunch and dinner menus.  Our fans love the way we cook our bacon in our ovens daily in our rest of day menu items like the Baconator®, so we knew bacon was a must-have for the breakfast menu.  We also exclusively use fresh cracked eggs on every single breakfast sandwich, unlike our competition, who often use liquid or frozen eggs.
How has Wendy's continued to innovate the breakfast menu since its debut?
We introduced two exciting new breakfast creations in the past year:
Hot Honey Chicken Biscuit: We are always looking to bring new flavor profiles to our menu with new Made to Crave offerings for our customers.  In February of 2022, Wendy's released our first breakfast innovation since launch, for a limited time: the Hot Honey Chicken Biscuit.  This savory yet sweet item was the first to bring our rest of day Made to Crave mindset into the breakfast daypart.
Homestyle French Toast Sticks: Recognizing our menu was full of savory favorites, we decided it was time to sweeten up our breakfast offering.  In August of 2022, the crisp, golden-brown crust and soft, custardy interior of our Homestyle French Toast Sticks joined our breakfast lineup.  Thanks to the demand for the new sweet breakfast item, Wendy's launched Homestyle French Toast Sticks in Canada earlier this year.
What are Some of Wendy's Most Popular Breakfast Items?
The Breakfast Baconator®: The morning take on our rest of day favorite – Wendy's iconic Applewood Smoked Bacon and decadent Swiss Cheese sauce make this sandwich stand out amongst the crowd.
Breakfast Croissants: Our Sausage, Egg and Cheese and Bacon, Egg and Cheese Croissant sandwiches are the best you'll find!  With free-range fresh-cracked eggs, creamy cheese sauce and a flaky croissant bun, there's no better way to start your morning.
Seasoned Potatoes: We knew seasoned potatoes were going to be a hit in the test kitchen, but we had no idea just how much everyone would love them!  The perfect sidekick for a breakfast combo, these crispy potato wedges feature unique spice blend and are actually the most-mentioned item across Wendy's social.  
While these are the "original" breakfast favorites, there's a new, sweet top contender: Homestyle French Toast Sticks.  This menu item is a perfect on-the-go breakfast and has quickly become a fan favorite. See for yourself:
While these are the "original" breakfast favorites, there's a new, sweet top contender: Homestyle French Toast Sticks.  This menu item is a perfect on-the-go breakfast and has quickly become a fan favorite.
What does the future of Wendy's breakfast look like?
We pride ourselves on listening to our fans – especially when it comes to what flavors they crave all day long.  There's nothing more exciting for me than getting our culinary team together and perfecting a new menu innovation, so you can expect to see (and taste) even more game-changing breakfast items from Wendy's in the future.
What is your go-to breakfast order?
That's like asking me to choose my favorite child!  It depends on my mood, but I'll have to go with the Honey Butter Chicken Biscuit.  I love the sweet and savory flavors in this breakfast sandwich.  The crispy, chicken fillet, perfectly seasoned and topped with maple honey butter on a fluffy buttermilk biscuit is always a winner for me!
I also love to add our cold brew coffee to any of my breakfast orders.  With its barista quality, authentically steeped arabica bean blend and a splash of vanilla Frosty® creamer, Wendy's Cold Brew is the perfect way to start to any morning.