It's Time for a Taste of Summer
Our Berry Burst Chicken Salad is Back (and Did We Mention Better?)
Read time: 1 min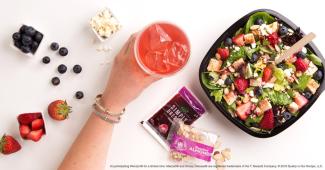 Ever notice how the passing of seasons ushers in different milestones? Whether it's the warmth of the sun on your face or a taste of the first in-season fruit or the scent associated with cooking out in your backyard, your senses scream, "Summer is here!". For us, summer is a state of mind and the opportunity to use our fresh supply chain to get creative in the kitchen. Sweet, savory and bursting with flavor, the tastes of summer are transportive and remind you to live in the moment and soak.it.all.up. Because, #summer. 
We've been serving memorable summer salads made with fresh ingredients like ripe berries and seasonal produce for years. And you know what? Sometimes you don't have to choose between good-for-you and delicious. Creating salads that can do both has its challenges though.
Our Salads team led by Shelly Thobe, lives for the challenge of figuring out how to create the next big summer salad. Thanks to our fresh supply chain and partners, we're able to source lots of unexpected items, from mango to blackberries. And luckily for you (and us), the team is masterful at combining fresh ingredients, unique textures and the perfect dressing to bring it all together in one, incredible, flavorful bite.
Curious to know more? We've got you covered with a Q&A with Shelly, below. And BTW, did we mention our Berry Burst Chicken Salad is back? Available for a limited time, this fan fave is back bringing you a taste of summer.
What goes into creating a new summer salad?
The short answer? A lot. We start by looking at what trends are out there: what flavors are appealing to people, what's getting them excited? We know our customers love when we add fresh fruit to salads, so we look to bring that back every year. Once we land on a concept, we test multiple iterations and determine those we want to bring to life. Working with suppliers to find seasonal berries that meet our standards for all our restaurants is challenging, but so worth it. This year we brought back a fan favorite, the Berry Burst Chicken salad. We're thrilled to bring our summer salads full circle and re-introduce it in a relevant way.
How does Wendy's prepare a salad?
Prepping our salads is a process we've honed, starting with our proprietary, fresh blend of lettuce and greens. Our ingredients' flavors speak for themselves, so we keep it simple like you would at home. We add freshly sliced strawberries and juicy blueberries on top and then toss in grilled chicken and salty feta cheese. We let the customer put the finishing touch on the salad: our raspberry vinaigrette formulated specifically for Wendy's Berry Burst Chicken salad to give a hint of acidity to balance everything. We're really proud of the dressings we use from the Marzetti Simply Dressed line. We think it's one of the best dressing lines around: it's preservative free, doesn't have artificial colors or flavors. We wouldn't want to top something amazing with something not great. There's also no added sugar, and it really creates the perfect sweet-tart taste. Our salads are also completely customizable! Want croutons or pecans to give it a little crunch? Just ask!
Which summer salad have you been the proudest of?
Summer Berry Salad. It's my absolute favorite salad. Ever. We were able to expand beyond strawberries or blueberries, and introduced blackberries to our salad. What excited me was to think that this was a combination many may have never thought to try. Introducing a new fruit allowed us think outside the box and we started to consider other fruits for our salads, like mango and coconut. We realized we had a lot of room to play and we're always excited to test new combinations and innovate. Another reason I love the Summer Berry Salad is that it showed we are trendsetters in our industry when it comes to supplying fresh ingredients not only with our famous fresh never frozen beef, but also our produce. Introducing blackberries to our customers was a risk, but luckily the salad proved so popular it actually help increase blackberry production nationwide.
Speaking of trying new salad combinations, what's the most bizarre food trend your team has even considered?
Wacky ideas are always thrown out there! One of the crazier combinations we talked about was a Hawaiian salad that may or may not have included SPAM. Someone also recently suggested incorporating jackfruit into a salad, and while it's on-trend, it's got an odd texture that might be hard to work with. That said, I can't wait to see what our team comes up with for our next salad! Whatever it is, we'll keep you on your toes.