More Chicken than Beef on Wendy's Menu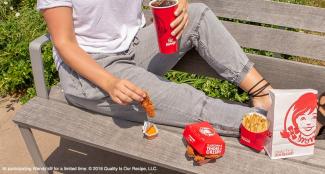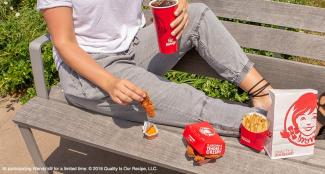 Remember that time we (Wendy's) made that big announcement about our $30 million investment in chicken? It's okay if you don't. A lot of news has happened since February 2017.
Allow me to remind you why we want you to care about this news. It's because when people use words like "meh" and "okay" to describe chicken, it bothers us.
We Care A LOT About Chicken
Of course, Wendy's will always be known for our iconic, square hamburgers, but allow me to let you in on a secret. There are more items featuring chicken on the Wendy's menu than beef.
Gasp!
Think about it. We grill chicken on all our fresh-made salads, like fan favorite Apple Pecan Chicken Salad. Then there is the Homestyle Chicken Sandwich, the Asiago Chicken Club, and the Southwest Avocado Chicken Sandwich. And don't forget about the OG Spicy Chicken Sandwich! We even put that spicy chicken breast on top of a of bed of romaine lettuce and call it the Spicy Chicken Caesar Salad. We hear millennials are all about it.
Chicken That Tastes Like Chicken
So, whether it's spicy, homestyle or grilled, we believe chicken should be described as tender and juicy. Also, it should taste like chicken. Our customers deserve nothing short of the best chicken and we've committed to delivering it. Which is why our customers get chicken that is 100 percent all-white meat with no artificial flavors and all antibiotics important to human medicine have been eliminated during production.
Tender Tenders
Last year, actually a few months after our $30 Million chicken investment announcement, we introduced yet another chicken offering to our menu. It was in the form of a tender.   
We knew the recipe for this glorious tender needed to rise above a stereotypical tender. Greasy and artificial? Not in our house. Tough and dry? Maybe from the other guys. Wendy's chicken tenders are made just like our chicken breasts: All white meat. No antibiotics important to human medicine used during production. Delicious.
Competitors might try and fool your taste buds with a flavorful mix of seasonings and breading, but the taste of Wendy's chicken tenders stands on its own, lightly breaded and seasoned with simple ingredients that you find in your own pantry.
But if you do want a little something extra to dip your chicken tender into, we've got you covered with a variety of Wendy's dipping sauces: sweet and sour, Sriracha, honey mustard, ranch, and our very own, Side of S'Awesome™ Sauce.
Let's commit to removing words like "meh" and "okay" from our vocabulary when it comes to chicken and replace it with tender, juicy and ordered at Wendy's.