Wendy's New Salad Springs Into Restaurant
Meet the Parmesan Caesar Chicken Salad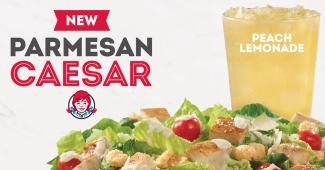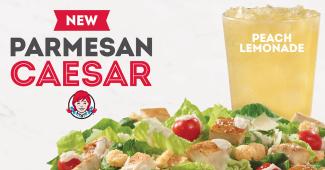 They say there's someone out there for everyone. At Wendy's, we like to believe that there's also a Wendy's salad for everyone, which is why the Wendy's salad menu is curated with a variety of unique, flavorful and freshly-prepared salad options that cater to your wants and needs. Whether you're looking for craveability or convenience, you can have it all with Wendy's balanced lineup of freshly-prepared salads. It's like Tinder for your tastebuds!
Speaking of craveable, we're kicking off salad season by saying hello to Wendy's new Parmesan Caesar Chicken Salad. Crafted with romaine lettuce, juicy greenhouse-grown grape tomatoes and topped with a freshly grilled all-white meat chicken fillet, this salad also features not one, not two, but a three-cheese Italian blend of Asiago, Parmesan and Romano cheese. But we're not done yet. Toss in some parmesan crisps to add a savory and unexpected update on the classic Caesar Salad. Of course, no salad is complete without Wendy's salad dressing. Made with extra virgin olive oil, 330 mg omega-3 per serving, no artificial color or flavor and no high fructose corn syrup, Wendy's creamy Marzetti® Simply Dressed® Caesar dressing makes getting your veggies in tastier than ever. Add a tall glass of our new peach lemonade and you've got yourself a meal, folks.
At Wendy's we're known for our freshly-prepared salads, but what you might not know is the care and consideration that goes into making each bite as fresh as the next. Thanks to our longstanding commitment to serving quality ingredients, our supply chain enables deliveries of fresh produce, like U.S. grown romaine lettuce and greenhouse-grown tomatoes to restaurants nationwide, twice a week. Wendy's also believes a delicious salad is topped with warm, grilled (or spicy or homestyle if that's your preference) chicken, which is why we've worked hard to find ways to improve our chicken quality and serve you the best salad possible.
Wendy's new salad is available in both a full-size option for $6.79 and half-size option for $4.79.* And with a full-serving size coming in at 410 calories (dry toppings and grilled chicken included), plus only 80 calories per packet of the recommended Marzetti® Simply Dressed® Caesar Dressing, this is the go-to salad you've been looking for. Not to mention, salad delivery is just a click away, thanks to our partners at DoorDash. ** #SaladGoals
* Recommended Pricing. Participation may vary.
** Delivery via DoorDash available only in select markets at participating restaurants while supplies last. Prices may be higher than in restaurant. Additional delivery fees, service fees, surge fees, small order fees, taxes and gratuity may apply. See full terms and conditions at dasherhelp.doordash.com/offer-terms-conditions.
***While we provide known instances of wheat allergens and ingredient statements, please understand that instances of cross contact with other gluten containing grains are possible due to common handling and preparation areas in our restaurants.
Marzetti and Simply Dressed are registered trademarks of T. Marzetti Company.