It's Back! Get ready to enjoy the Pretzel Bacon Pub Burger Once Again
The favorite is back – in more ways than one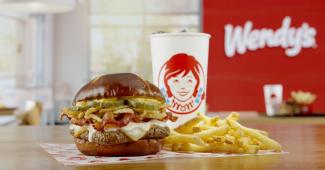 When the Pretzel Bacon Pub Cheeseburger debuted on the Made to Crave lineup two years ago, it became an instant fan favorite. While the sandwich made a slight detour off menus last year, we're delighted to share that the limited-time offering is once again back for everyone to enjoy!
The origin of Wendy's® pretzel bun dates back to 2013. Nearly a decade ago, we introduced our first pretzel buns to the world, and fans fell in love, even writing tweets that turned into love songs about them. As the only quick service restaurant with pretzel buns on their menu, we knew if we brought them back, we had to really bring it with the flavor profile. So, we upped the ante to create our softest, signature, best-tasting pretzel bun, creating something you won't find at any other chain. We love bringing the first and only cravings of their kind to our fans!
As a result, this sandwich brings everything you know and love about gastropub burgers to a quick service restaurant. Pull up your barstool because with this unforgettable combination of flavors, we're delivering on quality taste at an affordable price.
Tell Me More
After leaving menus (but never our hearts) last year, the Pretzel Bacon Pub Cheeseburger has re-emerged to remind everyone who the real MVP (Most Valuable Pretzel) is. Layered between a soft pretzel bun lies a quarter pound of fresh, never frozen beef* topped with Muenster cheese, three strips of Applewood smoked bacon, smoky honey mustard, warm beer cheese sauce, crispy fried onions, and pickles. This, mouthwatering cheeseburger combines unforgettable ingredients that'll make you wonder what you ate before it came into your life.
Did We Mention the Warm Beer Cheese Sauce?
Our research team went through 18 different revisions of the beer cheese sauce to get that perfect amount of bitterness that complements the other sweet and savory ingredients of the sandwich. We screened more than ten different beers for flavor to perfect the beer cheese sauce. In the end, we decided to blend two beers from a local brewery.
As a hot-held cheese sauce, it helps elevate the temperature of the sandwich while adding the ooey-gooeyness we all love in comfort food.
Double The Reason to Order
To top it off, pretzel bun lovers can earn double the points on any Pretzel Bacon Pub purchase** made through the Wendy's app Monday, September 12 to Sunday, September 25. You will knot want to miss this offer!
Too Good to Be Gone
Take it from our Vice President of Culinary Innovation John Li on why this sandwich was destined to return to menus. "When you land on a hit like the Pretzel Bacon Pub, the culinary magic lies in bringing items back to the menu, instead of creating a new flavor profile," said Li. "With flavor combinations like beer cheese sauce and honey mustard – the Pretzel Bacon Pub Cheeseburger creates an elevated cheeseburger experience you'll want to try again, and again."
Just had @Wendys for lunch, and I gotta say: their food is excellent! I really enjoy the pretzel pub burger and pub fries, which I'm very happy they brought it back, and the beer cheese sauce is very good and tasty! Thank you so much Wendy's for giving me great taste!" 

— @toontasticjuju August 28, 2022
@Wendys hey bestie when's pretzel pub coming back?"

— @StephzillaNJ August 30, 2022
Chicken More Your Thing?
If you are craving fried chicken, try the Pretzel Bacon Pub Chicken Sandwich, which swaps the quarter pound of fresh, never frozen beef for the Classic or Spicy filet.
Download the Wendy's App
Now that we've effectively made your pretzel craving fly through the roof, visit your nearest participating U.S. Wendy's or download the Wendy's app to order the sandwich you've been dreaming about. And if the Pretzel Bacon Pub Cheeseburger makes you want to write a love song, let us know @Wendys on Twitter.
* Approximate weight before cooking. Fresh beef available in the contiguous U.S., Alaska, and Canada. 
**Limited time only at participating U.S. Wendy's. Wendy's app download, account registration and use required to earn points and redeem rewards. Points have no monetary value. See www.wendys.com/Rewards for details.