Seas The Day: Wendy's Cod Sandwich Is Back
Our Fish Sandwich is a Cut Above the Rest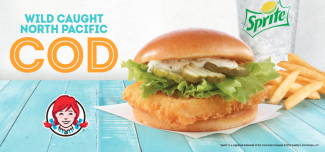 There may be plenty of fish in the sea, but Wendy's fans know there's no fish sandwich quite like Wendy's North Pacific Cod Sandwich. A flavorful fillet of Wild caught North Pacific cod wrapped in crunchy panko breading and topped with creamy dill tartar sauce, three dill pickle slices, crisp lettuce, and served on a soft toasted bun – it's a premium sandwich so so-fish-ticated, we only serve it for a limited-time.
At Wendy's, spring fever = cod fever with the return of this certified fan favorite. Because Wendy's Pacific Cod fever is a real thing, we thought we might answer some of the burning questions about everyone's favorite fish sandwich.
Is Wendy's Fish Sandwich Available Now?
Sure is! But it will eventually set sail from our menus, so make sure you grab it while you can.
How Many Calories is Wendy's Fish Sandwich?
Wendy's North Pacific Cod Sandwich is 440 calories and is a perfect meat-alternative for meatless Fridays during lent or for customers simply looking for a refreshing spring-time sandwich that also packs a protein punch – 17 grams!
How Much Is Wendy's Fish Sandwich?
$3.99*
What Kind of Fish is in Wendy's Fish Sandwich?
Wendy's fish sandwich is made with premium wild caught North Pacific cod. While other QSR brands focus on Pollock for its price efficiency, Wendy's has your back with a sandwich made with Cod - a fish you actually recognize.
And if we can't reel you into our restaurants to snag a sandwich, take advantage of Wendy's delivery options by placing an order through DoorDash**. Your favorite Wendy's fish sandwich, delivered? Hook, line, sinker. Just another reason why Wendy's cod is a cut above the rest.
* Recommended Pricing. Participation may vary.
** Delivery via DoorDash available only in select markets at participating restaurants while supplies last. Prices may be higher than in restaurant. Additional delivery fees, service fees, surge fees, small order fees, taxes and gratuity may apply. See full terms and conditions at dasherhelp.doordash.com/offer-terms-conditions.