Taking Grilled Chicken to the Next Level
Read time: 1 min
EDITORS NOTE: Recently, our culinary team at Wendy's recognized an opportunity to lower the amount of sodium contained in our grilled chicken and salads.  Sodium is a topic we care about and we strive to be a place that provides options for all, and specifically (in this case) for those who are looking for a few items with lower sodium counts.
We're on a journey and proud of the progress we've made, so we're using this blog to explain a bit about how we approached this challenge…you know, to make "fast food" better for you, without sacrificing quality and taste.
Meet Jenna and Eryn, two dynamic millennials who love the opportunity they have to bring really delicious and satisfying menu items to life.  You can thank Eryn for the recently "renovated" Grilled Chicken Sandwich and Jenna for the Power Mediterranean Salad that is packed with protein and comes in at 450 calories…fully loaded (yeah, that means TWO packets of dressing). 
When we were asked us to write this blog, we found that we shared a similar passion for why we got into "Product Development" (aka creating the items that make it on Wendy's menu) which is the desire to create healthier food for consumers without sacrificing flavor. Working at Wendy's is a dream job for both of us as we have the opportunity to create Deliciously Different food with the highest quality ingredients. 
But, let's face it.  When you decide that you WANT fast food you're going to EAT fast food, so we think, why not make something that our consumers would feel great about eating?  We looked at our menu and consumer data and that led us in the direction of where to start…
Improving the Grilled Chicken
We know what you're thinking…we should start with the Baconator, right? While that would be an interesting challenge, we recognized an even greater opportunity resided in our grilled chicken. Because making this product better would have ripple effects that extend to our salad line-up, too. 
So when we approached making Wendy's grilled chicken better, we weren't just thinking about flavor – we definitely wanted to create something that tasted great and would give us something to talk about health-wise. 
We played around in our Innovation Center (also known as our test kitchen) with a variety of homemade marinades and we even cooked-up some chicken on a charcoal grill…outside…in the middle of winter (it was snowing!) to align on what we thought the best-tasting grilled chicken was.
Collaborating with our suppliers is a key component to our success, so they helped us create marinades.  And then we did more research by talking with our customers. 
Hearing The Voice Of Our Consumers
What'd we find out?  Well, no surprise, but these grilled-chicken-eating-consumers were seeking a reprieve from bland, boring, plain grilled chicken!  They desired flavor, bold flavor, like the flavors we were creating with our homemade marinades.
Here's where the sodium reduction came into play, since the marinade was more flavorful, we had an opportunity to reduce sodium and yet still have better-tasting chicken. We didn't start with a specific target (ex – reduce sodium by 10%) but instead worked closely with our suppliers and our registered dietitians to incorporate lower sodium ingredients and processes, and then validated sodium levels during the market test.
Two years and several dozens of tests later, Wendy's customers are now enjoying a new grilled chicken sandwich that has 18% less sodium than our previous Ultimate Chicken Grill.  And we did it without sacrificing taste. Our customers prefer the new filet two-to-one! 
The sodium in the filet itself was reduced by 37% so it had an even bigger impact on our salads, which are served with a grilled chicken fillet. (Hooray!)
Previously, we weren't able to "claim" much when it came to our salads because of the sodium levels, but now our salad-loving customers can feel even better about making the choice to stick to the greens at Wendy's!  Check out some of these stats on our favorite items:
Apple Pecan Chicken Salad:
A full day's worth of veggies (6 cups, or 3 servings).and ½ serving of fruit.

100% DV of vitamin A

90% DV vitamin C

~25% the daily requirement of fiber, potassium, and calcium.
Power Mediterranean Chicken Salad:
A full day's worth of veggies (6 cups).

Contains one serving of whole grains (red quinoa, white quinoa, brown rice)!

8 grams of fiber (1/3rdDaily Value)

Provides 80% DV protein. (100% DV = 50g).
The new grilled chicken initiative is a great example of Wendy's continued commitment to ensuring the highest quality ingredients for our consumers.  Similar efforts are always underway among our colleagues on the culinary team.
We have our sights set on creating bold flavors and bringing them to some of our other chicken products, while reducing sodium and still offering delicious food. We're also always at work developing salad ingredients while being mindful of sodium content. Like Bry said earlier, it's a journey!
Our goal is to share our great nutrition story with you all, and we're not planning on letting a little salt get in our way. 
Thanks!
Eryn & Jenna
About Eryn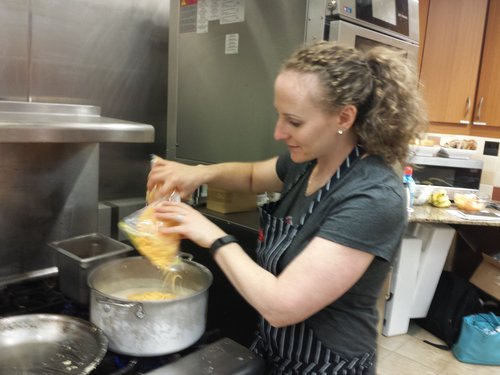 I grew up Dublin, Ohio – unofficially known as the home of Wendy's – so I've been a Wendy's fan since a very young age!  I even remember coming to the Support Center during a "looking for the next Wendy" contest.  I guess the fact that I have red hair helped!  When I left to study Food Science at Cornell University, I didn't expect to come back to Ohio.  But after being out of state for school and my first job, I found myself missing the comfort of home.  My dad was actually the one who saw the job posting for the Research & Development position at Wendy's.  I immediately sent in my resume and the rest is history!  They say time flies when you're having fun and after being here for the past 8 years I completely agree! It's been a great journey to support our menu evolution and I'm most proud of our position on ingredient integrity and nutrition and I am so happy to continue to improve the quality of the food we bring to millions of customers.
About Jenna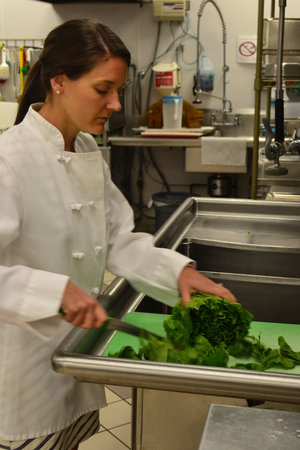 The 3.5 hour drive from Cincinnati to Cleveland was often made by my family as we traveled to visit our grandparents several times a year. One of the best parts about the road trip was the inevitable fast food meal along the way. The only restaurant to receive unanimous votes in our minivan was Wendy's. At the time I didn't venture out much beyond my chicken nugget Kid's Meal, nor did I ever envision myself working for the restaurant chain.
Many years later while I was studying Food Science at THE Ohio State University, an opportunity presented itself to intern with Wendy's. I was excited for the chance to develop new menu items for a brand I had grown up eating, a brand that raised the bar for food quality within the Fast Food industry. It's a challenge to remain ahead of the trends, but Wendy's has tackled this head on, supporting initiatives to better our food ingredient statements and nutrition. To this day, I have serious #joblove as I'm able to collaborate with my colleagues and supplier chefs to bring new menu items to life utilizing the highest quality ingredients.