Wake Up to Something Better! Wendy's Breakfast Comes to Canada
Canadian Customers Can Now Try Our Delicious Breakfast Menu Items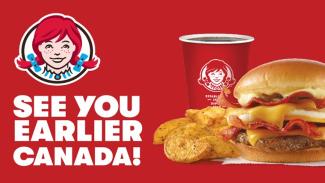 Today, Wendy's Canada is introducing something new that will forever change Canadians' morning routine: breakfast!
We spoke with Lisa Deletroz, Senior Director of Marketing for Wendy's Canada about our journey to the breakfast table and what customers can expect with this delicious new offering. Here are the piping hot and juicy details:
Does Wendy's have breakfast in Canada?
Yes! We are excited to share that Wendy's breakfast launched in Canada on May 2, 2022.
We know it's the most important meal of the day, but why did you decide to offer breakfast?
We want to provide Canadians with the bold flavour innovation and freshly prepared, high-quality ingredients that people have come to expect from us – earlier. We are confident we can do breakfast better than the others by providing a better breakfast menu that delivers on quality, taste and affordability.
Why are you introducing breakfast now?
Bringing this delicious and craveable breakfast offering to Canadians has been two years in the making. We've conducted extensive research to ensure we are providing the breakfast that Canadians not only want, but deserve: a breakfast that doesn't cut corners.
First things first. How's your coffee game?
We think we're at the top of our game when it comes to coffee. For the first time ever, we've created a signature medium-roast coffee blend uniquely crafted for our Canadian customers. Our culinary team worked diligently with its Canadian coffee partner to develop a sustainably sourced coffee blend of 100% Arabica beans from Central and South America.
We did extensive research with Canadian consumers to curate a blend to please their specific palates. The coffee is roasted, ground and packed in Canada, brewed continuously throughout the day to bring out the best flavours, and is served to order.
And don't forget about the Frosty-ccino! You won't just want this at breakfast, so we've made it available all day – it's the perfect pick-me-up to start your morning or just the thing to get you through the afternoon.    
I've eaten a lot of breakfasts in my life. What makes Wendy's breakfast different?
For starters, it's not your average fast-food breakfast. Our culinary team has curated a menu that we believe is better than our competitors, combining the best of Wendy's signature menu items while also paying homage to Wendy's fan favourites.
Our breakfast menu items include the Breakfast Baconator®, a grilled square sausage patty paired with two slices of cheese, six strips of crispy oven-baked Applewood smoked bacon, cooked in every restaurant every day, a fresh-cracked Canadian grade A egg, all covered in a warm Swiss cheese hollandaise style sauce on a premium toasted bun. You won't be asking, "where's the bacon?" after tasting this breakfast sandwich! We are also introducing the Frosty-ccino that combines cold brew coffee with your favourite legendary chocolate or vanilla Frosty® flavour featuring Canadian dairy, served over ice. And, because every hero needs a sidekick, we are also offering Seasoned Potato Wedges.
Best of all, the entire menu is customizable. You can mix and match to make it your own.
All this deliciousness is making me hungry! How can I get the breakfast?
We're excited to see you earlier! Visit a participating Wendy's restaurant between 6:30 a.m. and 10:30 a.m.* You can also download the Wendy's app to order ahead. Or, if breakfast in bed is more your thing, who says breakfast can't be delivered? SkipTheDishes and Uber Eats deliver hot, ready-to-eat breakfast to Wendy's fans every day.
Get out and make your morning better! To find a restaurant near you, visit order.wendys.com/location and if you go now, you can take advantage of a FREE hot cup of your soon-to-be new favourite coffee blend now through May 29, 2022**!
*Hours may vary by location. 
**No purchase necessary.  Limit one offer person.  While supplies last.