What Breakfast Sandwich Options Does Wendy's Have? Good Ones
Answer your breakfast sandwich cravings with the best drive-thru breakfast in the game.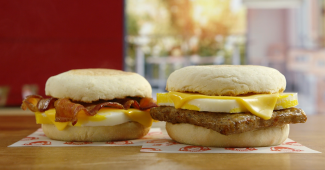 The most important meal of the day deserves only the best. When we launched our breakfast menu in 2020, we set out to right the wrongs of our competitors' bland breakfasts, introducing quality ingredients and flavor innovation you won't find anywhere else. Wendy's® breakfast just got even tastier with new sandwiches joining our stacked breakfast sandwich lineup. 
What is Wendy's newest breakfast sandwich? 
Wendy's new English Muffin Sandwiches are a breakfast worth waking up for. Take a bite of our newest breakfast sandwiches, featuring a fresh-cracked grade A egg, Applewood Smoked bacon or grilled sausage and melted American cheese placed between a warm English Muffin with our savory buttery spread. Our culinary team spent a year and a half perfecting the English Muffin to introduce a real, fresh-made, craveable and affordable breakfast classic, made better for our fans.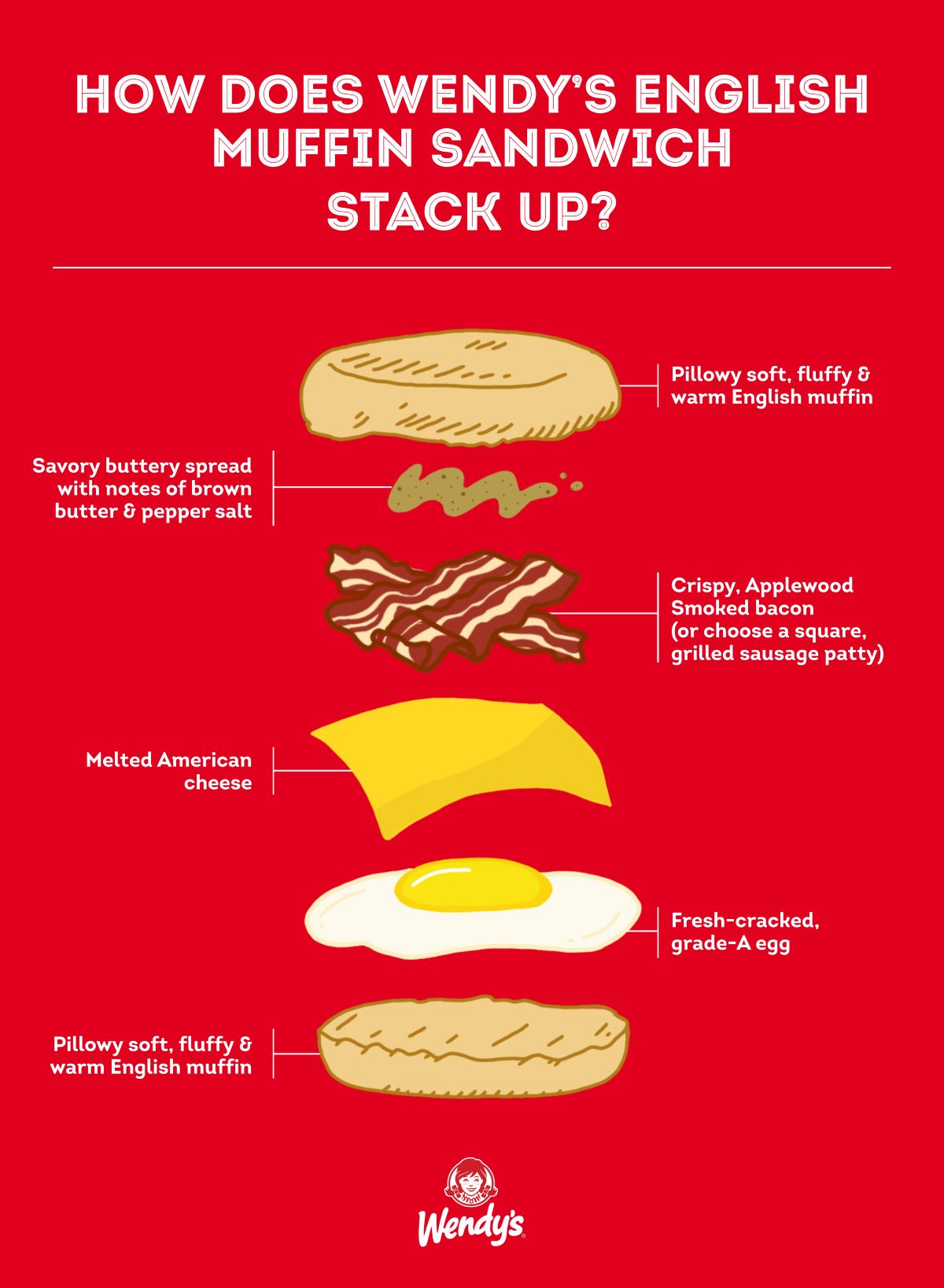 What are my breakfast sandwich options at Wendy's? 
Wendy's knows breakfast is all about serving up flavor, quality and value. So, our team created breakfast sandwiches stacked with flavor, customized to our fans' morning cravings. Our breakfast sandwiches are made the Wendy's way with the best ingredients in the game. First, start with a warm breakfast bread: 
English Muffin: Light and fluffy, the English Muffin is a beloved breakfast staple, and is sure to be your new favorite when stacked with our quality ingredients. With a square sausage patty or your choice of oven-baked Applewood Smoked bacon, it's safe to say that Wendy's is squaring up to the competition.
Croissant: You'll never flake on breakfast again after trying Wendy's breakfast croissants. Stick to the classics with your choice of bacon or sausage placed between a fresh-cracked egg and savory Swiss cheese sauce – or go for bold flavor with a Maple Bacon Chicken Croissant.
Biscuit: Tried and true, we know how to serve up a good breakfast biscuit paired with your favorite breakfast ingredients. Looking for something simple, yet savory? Try our Honey Butter Chicken Biscuit, with a crispy chicken filet and honey butter sauce between a fluffy buttermilk biscuit.  
For our full breakfast sandwich lineup, visit our Menu.  
Stack on your Breakfast Protein 
When we introduced our breakfast menu, we played to win with protein options for every fan. Whether you're a bacon or sausage lover, make your choice of fresh, oven-cooked Applewood Smoked bacon or a grilled square sausage patty. Looking to mix up your protein? Choose our juicy, white meat chicken breast, lightly breaded and seasoned! And of course, we always have your back with fresh-cracked eggs as the star of the show. 
Ready to go all-in on breakfast? Meat Meet the Breakfast Baconator®. 
For when the morning cravings are loud and you need a hearty start to your day, the Breakfast Baconator has your back. Grilled sausage, American cheese, Applewood Smoked bacon and a fresh-cracked egg sandwiched between more cheese, MORE bacon and a signature one-of-a kind Swiss cheese sauce deliver pure breakfast bliss.  
Does Wendy's have hashbrowns? 
What's a breakfast sandwich without a savory sidekick? Move over hashbrowns, Wendy's Seasoned Potatoes are the ultimate hot, crispy and perfectly seasoned addition to any breakfast order. 
What are Wendy's coffee options? 
Pair your favorite breakfast sandwich with Wendy's coffee lineup of hot coffee or smooth, balanced cold brew. Available in your choice of rich vanilla, chocolate or caramel flavors, our Frosty® Cream Cold Brew – featuring our iconic Frosty creamer and refreshing cold brew – is the latest coffee beverage to join menus all day long.  
However you choose to stack your Wendy's breakfast sandwich, we have a delicious deal for you. Start your morning right with $2 off ANY breakfast combo weekly* through August! Redeem this exclusive offer by visiting the "Offers" section in the Wendy's app Reward Store or on the website.  
*Offer only available at participating U.S. Wendy's for a limited time. Offer must be redeemed via the Wendy's app or Wendys.com. Account registration required. Not valid for delivery orders placed outside of the Wendy's app. See offer in Wendy's app for further details.