Frosty Cream Cold Brew is Here to Save Drive-Thru Coffee
Does Wendy's have good cold brew coffee? Heck yes, we do. Get the details on our Frosty Cream Cold Brew Coffee and flavor options.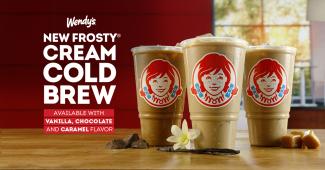 What is Wendy's Frosty Cream Cold Brew?
Merging smooth, cold-brewed coffee with legendary Frosty creamer and the choice of rich vanilla, chocolate, or new caramel syrup, the Frosty Cream Cold Brew is swirled to perfection over ice. Frosty Cream Cold Brew gives our fans craveable coffee options you can't find anywhere else, available all day nationwide! Now, your options are endless when it comes to pairing our newest coffee offering with Wendy's craveable breakfast options or with one of our classic hamburgers and Hot & Crispy Fries.
What are Wendy's Frosty Cream Cold Brew flavors?
With our new flavor options, you now have more ways than ever to customize your cold brew. Order Frosty Cream Cold Brew with your choice of three rich flavor options:
Vanilla
Chocolate
Caramel (NEW)
The Frosty was one of five original Wendy's menu items, so, it only made sense to serve up a unique take on this iconic treat to be part of your morning must-haves or afternoon pick-me-up. We also have regular cold brew, if that's more your thing.
What is cold brew and how is it made?
You may be thinking, isn't cold brew over ice the same as iced coffee? The short answer is no! While the other guys serve bitter hot coffee over ice, Wendy's cold brew is slow steeped for more than 12 hours in cold water. Once seeped, the grounds are filtered, leaving a smooth, perfectly balanced flavor profile.
While the process sounds simple, we take great pride in the development of our custom cold brew bean blend, which is different than the beans used to brew Wendy's hot coffee. At first sip, you'll notice a balanced flavor with earthy, dark chocolate notes. We use a blend of Indonesian beans, which are difficult to source but deliver a smooth, never bitter, taste.
Is cold brew coffee stronger than regular coffee?
Because of our 12-hour brewing process, cold brew tends to have more caffeine than traditional hot coffee.
Wendy's new Frosty Cream Cold Brew will make your mornings, afternoons and, yes, even late nights that much sweeter! Head to your local Wendy's restaurant to sip and savor the new Frosty Cream Cold Brew with your choice of chocolate, vanilla or new caramel flavor. Looking for even more coffee options? We've got you with our Wendy's Hot Coffee!