Wendy's Celebrates Annual Founder's Week
Every year, the Wendy's Family celebrates our heritage by honoring the legacy of Dave Thomas and the iconic brand he built more than 50 years ago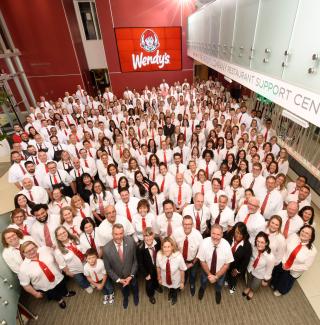 Last week, the Wendy's® Family celebrated Founder's Week – an annual celebration that pays homage to our founder, Dave Thomas, and the birth of our iconic brand.  
On November 15, 1969, Dave opened the first Wendy's restaurant in Columbus, Ohio, and the quick-service restaurant industry would never be the same. 54 years and more than 7,000 restaurants later, we continue to honor Dave's legacy and the values he instilled in the Company that defines our culture and how we operate – Give Something Back, Treat People With Respect, Do The Right Thing, Profit Means Growth and Quality Is Our Recipe.  
Each day of Founder's Week is centered around one of these values, and Wendy's global restaurant teams and support center employees had the opportunity to participate in a variety of activities to remind us why we continue to operate with these values more than half a century later.  
Give Something Back 
In 1992, Dave started the Dave Thomas Foundation for Adoption® (DTFA), and since its founding, the organization has helped find safe, loving and permanent homes for more than 13,600 children in foster care across the U.S. and Canada.  
We support the DTFA throughout the year through programs like the Frosty® 5K Run for Adoption, in-restaurant cause marketing campaigns like Frosty Boo! Books® and Frosty Key Tags, and our Wendy's Family Night fundraiser at our Annual Franchise Convention.  
This week, Restaurant Support Center employees and Wendy's Quality Supply Chain Co-Op (QSCC) associates were invited to volunteer at the Mid-Ohio Food Collective. Franchisees and Company employees were encouraged to take time to volunteer with a local organization that focuses on one of our four pillars of charitable support – foster care adoption, hunger and food integrity, youth and families and vibrant communities. 
Treat People With Respect 
Dave knew that a business built on the value of treating people with respect wouldn't just make for a great place to work but would also serve as motivation for all to treat people how they would want to be treated.  
He understood that friendly service and a quality product would lead customers to return again and again. To put this value into practice, employees had the opportunity to recognize their colleagues last week by sharing a special shout-out or message of praise for another team member who exemplifies Dave's values.  
Do The Right Thing 
Dave believed that you earned your reputation by the things you do every day. Because of that, he considered personal integrity to be the most important value one can have. He taught us that, when faced with a tough decision, it's always best to choose to do the right thing.  
We continue this legacy today by offering robust training and development programs that provide restaurant and support center employees with the tools and knowledge to do the right things for our customers and each other.  
Profit Means Growth 
We're squarely focused on bringing more Wendy's to more fans in more locations across the globe. Dave always said, "profit is not a dirty word," and we know an important part of achieving our vision of becoming the world's most thriving and beloved restaurant brand includes reinvesting to grow the business.  
This week, restaurant and support teams across the globe visited their local Wendy's to help drive growth across our System.  
Quality Is Our Recipe 
Quality and innovation are at the heart of everything we do. Dave was meticulous in how he ran his restaurants and he set the standard in quality across the industry with our commitment to serving fresh, never frozen beef* since the opening of the first Wendy's restaurant. Along the way he introduced the first modern drive-thru to the world. This innovation was so revolutionary that customers needed instructions on how to talk through the speaker to place an order.  
He was a fixture in his restaurants and could often be seen wearing his iconic white, button-down shirt and red tie in one of the more than 800 Wendy's commercials he starred in over the years.  
At the Restaurant Support Center, we closed out the week by dressing like Dave – red ties and all – reflecting on another year in our history and what it means to be a part of this great brand.  
Thank you to the entire Wendy's System and restaurant support teams for a great Founder's Week. Dave would be proud! 
*Fresh beef available in the contiguous U.S., Alaska and Canada.