See Wendy's Summer Salad Lineup 
Learn more about the Wendy's Summer Strawberry Salad and our full fresh salad menu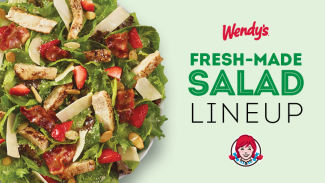 When the craving hits for something fresh and filling, go green with Wendy's® premium entrée salads. Unlike the other guys, our salads are prepared in-restaurant daily, so our lettuce is always crunchy, our bacon is crispy, and our chicken is juicy. Featuring only the freshest seasonal produce, we elevate salads from side dish to the main event. For a taste of summer, choose our returning Summer Strawberry Salad or try a range of bold options: Taco Salad, Grilled Chicken Cobb Salad, Parmesan Caesar Salad or Apple Pecan Salad.  
What's in the Wendy's Summer Strawberry Salad? 
You asked, and we listened! Back by popular demand, the newest addition to our craft salad roster is a returning fan favorite. Our Summer Strawberry Salad delivers a taste of the season with quality ingredients like sun-ripened, hand-picked strawberries, juicy grilled chicken, crisp applewood smoked bacon, candied almonds and a savory Tuscan cheese blend. That's all drizzled with a sweet and tangy Champagne vinaigrette and placed on a bed of fresh spring mix greens. 
Explore Our Full Salad Lineup  
Try our freshly made salads with our hearty lettuce blend to find your favorite:  
Taco Salad: Looking for extra crunch and spice? It's Taco Salad time! This fan-favorite is made fresh daily with crunchy romaine lettuce, shredded cheddar, tomatoes, salsa, sour cream, tortilla chips, and our famous chili.  
Grilled Chicken Cobb Salad: Go for a classic with our new Grilled Chicken Cobb Salad, featuring our signature lettuce blend, warm grilled chicken, tomatoes, shredded cheddar, eggs, applewood smoked bacon, crispy fried onions, and ranch dressing.  
Parmesan Caesar Salad: Meet the king of salads: the Wendy's Parmesan Caesar Salad. Our take on this signature salad begins with fresh romaine lettuce and is topped with grilled chicken, Italian cheeses, crunchy Parmesan croutons and creamy Caesar dressing. 
Apple Pecan Salad: For sweet, bold flavors, order our beloved Apple Pecan Salad. For just the right amount of crunch, we layer apples, dried cranberries, roasted pecans, blue cheese and grilled chicken on a bed of our signature lettuce blend.  
We Dress to Impress 
Enjoy our signature salads your way. Customize any order with your choice of our newly launched Wendy's dressings. Choose a sweet and tangy drizzle like the Pomegranate Vinaigrette. Looking for more familiar flavors? We have your lettuce covered with Ranch or Caesar dressings!  
Superior Salads the Wendy's Way 
Never settle for bland, fast-food salads. We outplay the other guys by offering forward-leaning, entrée-sized craft salads, and we're intentional about delivering the freshest flavors of the season. We prepare our salads fresh daily, so every bite is crispy, paired with fresh-cooked bacon, warm grilled chicken or flavorful chili.  
Feeling hungry yet? Download the Wendy's app and head to your nearest restaurant to celebrate the return of our Summer Strawberry Salad or to enjoy any of our satisfying craft salads.