A Thing Called Love: Weddings & Senior Pics at Wendy's
Wendy's and 'Love' May Not Typically Go Together, but These Fans Prove Otherwise
Read time: 1 min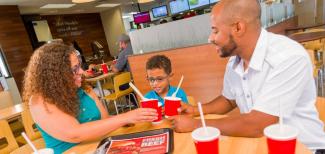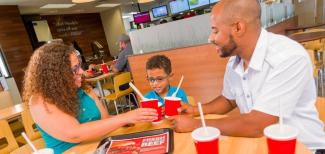 Most people have a place they love to celebrate their birthday, mark a special occasion, or brighten their mood after a crummy day at the office. It's a place where they of course look forward to the food, service, and atmosphere, but also because they know that just being there will put a smile on their face.
At Wendy's, we love and strive to be that place for our customers. Whether they're treating their kids to a Frosty® after making the school honor roll, or they're craving the best fresh, never frozen* hamburger after a long day at work, our customers know that Wendy's will deliver in that moment every single time. 
We collected a few stories over the past few months that highlight how Wendy's is that special place our customers. Whether celebrating a wedding, spreading a love of Frosty's or marking an occasion like graduation, we have nothing but love for our fans. Read on for a round up of stories below!  
Is Wendy's a place you love to go? Tweet us @Wendys and maybe we'll share your story next!
The First Wendy's Wedding
Most couples spend a year planning their wedding. They tour multiple venues, taste different recipes and thumb through their music collection for the perfect "first dance" song. But not Jessica and Abram Thompson of St. George, Utah. Jessica and Abram were married inside their local Wendy's on June 22 in front of their families, friends, and of course, the Wendy's restaurant team members. After exchanging vows, which included the phrase "may your love always be fresh and never frozen," all wedding guests were served a Frosty to celebrate! 
Random Acts of Frosty Kindness
Steven Loveland, a Wendy's fan in Ammon, Idaho, believes every child should end their Wendy's visit with a delicious Frosty. Steve is a regular customer at the Ammon Wendy's and for years has been treating children to a Frosty treat during their lunch or dinner. The East Idaho News recently discovered Steve's random acts of Frosty kindness and gave him several Wendy's gift cards so he could continue his tradition, but to thank Steve for his generosity, the Ammon Wendy's restaurant operators have decided to let him pass out Frosty desserts to the kids, free of charge. 
Senior Pictures With a Side of Nuggets
When you think of high school graduation, you think of a cap and gown, the ceremony and heading off to college. Lauren Hoge of Alexandria, Louisiana she had one more thing on her mind: getting the perfect Senior pictures at Wendy's. Her love of our crisp and juicy chicken nuggets inspired the idea, and now no matter how far away Lauren is from home, she can look back at those photos and reminisce.
Celebrating Shabbat the Wendy's Way
We know what you're thinking – Shabbat, the seventh day of the Jewish week and a day of rest – and Wendy's don't typically go together. But for a group of friends in Palm Desert, California, they wouldn't have it any other way. Years ago, the group started spending their Friday evenings at their local Wendy's because it was a convenient, affordable place to gather, share stories, and celebrate their faith and friendship. Their weekly ritual has garnered national media attention, and we're thrilled that they chose Wendy's as their gathering place (and their love of the 4 for $4 doesn't hurt, either!).
* Fresh beef available in the contiguous U.S., Alaska and Canada.