How Wendy's Makes a Biggie Difference for National Foster Care Month
Supporting foster care adoption is a biggie deal, but helping make a difference is easy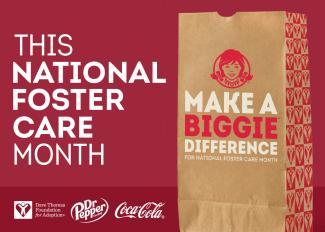 This National Foster Care Month, Wendy's® continues its longstanding commitment to make more family moments possible for children waiting in foster care with the help of the Wendy's family. My husband Brad and I have been blessed with two healthy children. But, unfortunately, not every child experiences the support of a loving and permanent family. In fact, there are nearly 400,000 children today who live in foster homes in the U.S. 
Wendy's Supports Foster Care Adoption 
I am proud of our franchisees, employees and customers, who have made a difference in the lives of children lingering in foster care through our annual fundraising campaigns. The Wendy's System has raised nearly $300 million to support the Dave Thomas Foundation for Adoption®, contributing to the shared focus of finding forever homes for thousands of children waiting in North America's foster care systems. In fact, in 2022 alone, we delivered record-breaking in-restaurant fundraising campaigns to support the Foundation. Through this support, the Foundation has helped find forever families for more than 13,000 children in the United States and Canada.  
'Make a Biggie™ Difference' this May 
During National Foster Care Month, a simple scan can make a biggie difference. Wendy's is inviting fans to 'Make a Biggie Difference' for children in foster care by simply scanning a specially marked 'Make a Biggie Difference' QR code on select Wendy's bags May 1-31. With every scan, Coca-Cola® and Dr Pepper® will donate $5 to the Foundation, up to $500,000.* Make an impact by placing an order at participating Wendy's restaurants nationwide today!     
Serving Children Most at Risk 
Through programs like 'Make a Biggie Difference,' Wendy's and our partners give to the Foundation in support of advancing its national awareness campaigns and life-changing programs, including Wendy's Wonderful Kids®. Wendy's Wonderful Kids adoption professionals, called recruiters, are dedicated to finding permanent families for children in foster care who are most often overlooked. Recruiters implement an evidence-based, child-focused recruitment model to find the right family for every child and work with smaller caseloads of 12–15 children to ensure that each child receives the time, resources and support they deserve. 
Wendy's Wonderful Kids at Work 
Johnathan and Patty were placed in foster care due to neglect. The siblings waited four long years for a permanent place to call home. Thankfully, their journey changed when they were adopted by Jeanie and Jeff with help from the Foundation's Wendy's Wonderful Kids program. Now, with the support of a forever family, Johnathan and Patty have a bright future ahead.  
Supporting foster care adoption is a biggie deal but helping make a difference is easy with a simple scan this National Foster Care Month. Consider making an even biggier difference by donating additional funds to the Foundation. Thank you for helping us as we advocate for children who need each of us to listen, care and give.  
"Coca-Cola" is a registered trademark of The Coca-Cola Company. "Dr Pepper" is a registered trademark of Dr Pepper/Seven Up, Inc. 
*At participating U.S. Wendy's available on 5# and 8# bags. For each QR code scan redeemed through 5/31/2023, $5 will be donated to the Dave Thomas Foundation for Adoption, up to a maximum of $500,000.00.