2020 Corporate Responsibility Achievements & Goals
Report Highlights Wendy's Positive Impacts in Food, People and Footprint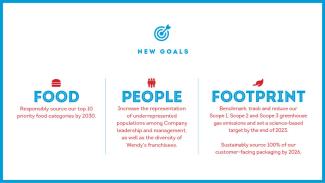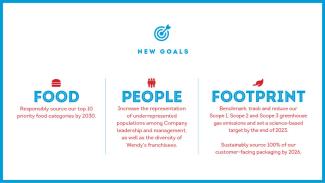 Today marks an important milestone at Wendy's® as we launch our 2020 corporate responsibility report. This report is more than facts and statistics; it is the compilation of various achievements over the past year and the announcement of new goals aimed at continuing to deliver substantive and meaningful change. Compiling this report allows us to reflect on the previous year and assess where we are on our journey—and where we want to go.
You'll see the phrase Good Done Right on the cover of the report; it is more than a headline to Wendy's. It's our corporate responsibility platform and represents our belief that we can bring positive change in the areas most material to Wendy's business and where we can have the greatest impact. The 2020 report highlights include completing our first materiality assessment; sharing new goals; and recognizing leading reporting standards, such as the Global Reporting Initiative (GRI) and Sustainability Accounting Standards Board (SASB). We also committed to public reporting on Climate topics through the CDP.
The editors of The Square Deal™ blog recently interviewed Chief Corporate Affairs & Sustainability Officer Liliana Esposito to explore how Wendy's remained focused on corporate responsibility in the challenging 2020 environment, what the Company's new goals represent to the organization and Liliana's vision for the future.
Read the full 2020 corporate responsibility report.
What is Good Done Right and what does it mean in the context of Wendy's 2020 corporate responsibility report?
Good Done Right reflects our values, goals and approach across critical areas of our business: Food, People and Footprint.
What's most energizing about the corporate responsibility space today is the recognition that making a positive impact in this area is vital for a business to succeed. Topics like environmental sustainability; responsible sourcing; and diversity, equity and inclusion (DE&I) are now as intrinsically connected to performance as traditional financial and operational metrics. This prioritization is true across the board with our key stakeholders. For example, we see many of our investors today identifying corporate responsibility and social impact as essential, raising the profile of our efforts and the broader focus on environmental, social and governance (ESG) topics. For us, Good Done Right is how we organize and express the important work we are doing.  
How did Wendy's handle corporate responsibility in the face of 2020's challenges?
Despite the myriad challenges we all faced in 2020, we accomplished a great deal. Highlights include implementing our new Animal Care Standards Program, conducting an inventory of our greenhouse gas (GHG) footprint, and completing our first materiality assessment to help us better understand our priority topics. All of this work progressed while we supported our team members through programs like WeCare and our Employee Resource Groups, strengthened our DE&I practices, and invested in our communities through our new community-based giving program.
What were some of the key learnings from Wendy's first materiality assessment?
Through this assessment, we engaged directly and indirectly with nearly 1,000 diverse stakeholders. Their qualitative and quantitative inputs helped us identify priority topics, which enabled us to see where we were making progress and where we needed to define new goals and accountabilities for ourselves. As a result, with this report, we are announcing four new goals under our focus areas of Food, People and Footprint.
- Within Food, we saw an opportunity to take our long-standing commitment to responsible sourcing even further. We identified ten priority categories (including beef, chicken, pork, dairy, eggs, produce, beverages and more) based on the volumes we purchase and the impact they have on the world around us and are developing new criteria for these categories. Criteria will be informed by a lifecycle assessment of priority food categories, Wendy's Animal Care Standards Program and a human rights risk assessment, and through collaboration with key supply chain partners to assess our status and set new targets for continuous improvement in how we source ingredients.
- For People, we needed to think about Wendy's in the larger context of business and society. Wendy's is an employer, a franchisor, a contributor to thousands of communities and a customer that purchases goods and services. People transcend all aspects of what we do. Therefore, we have set a goal to increase diverse and equitable representation at all levels of the Company. We've made significant steps by recently welcoming Dr. Beverly Stallings-Johnson to the Wendy's family to lead our DE&I efforts and, for the first time, sharing Company gender and ethnicity representation information in our corporate responsibility report.
- As for our priorities within Footprint, we are committed to setting a science-based target for GHG reduction, which will help us align with the recommendations set forth by the Paris Climate Agreement. We put this in motion by taking inventory of GHG emissions specific to our operations. We are also announcing a near-term goal to sustainably source 100% of our customer-facing packaging by 2026.
How does the Wendy's family feel about Good Done Right?
Some customers and Company employees have a very specific interest in environmental and social issues, but everyone wants to feel good about the companies they engage with—whether it's where they work or where they purchase goods and services—and the Wendy's family is no different.
In 2019, we created the Squarely Sustainable Council to focus on environmental sustainability efforts at our Restaurant Support Center, and we were happily overwhelmed with the number of employees who wanted to engage. Corporate responsibility brings a tremendous source of pride to our team members especially when they see their ideas implemented, such as at our in-house café at headquarters, which uses sustainable packaging; our Earth Week celebration, which includes employee volunteer activities and educational events; and our future pollinator garden.
How does corporate responsibility come into play within Wendy's vision to become the world's most thriving and beloved restaurant brand?
To me, the words "thriving" and "beloved" are nearly interchangeable with "sustainable" and "trusted."
Thriving means growing and enduring for the long term. I believe brands can only thrive when they operate sustainably. That's the reality across environmental, social and governance considerations as recognized by corporate and public policy communities and consumers.
The idea of being beloved means more than being well-regarded. It means being trusted. We are beloved when people feel great about dining with us, doing business with us, or working for us.
I'm proud of our progress, excited for the road ahead and hope our readers will follow us on our corporate responsibility journey.
For more information and to view the 2020 corporate responsibility report, please visit the What We Value tab at wendys.com.