2021 Corporate Responsibility and DE&I Updates
See how Wendy's is evolving our corporate responsibility and DE&I leadership in 2021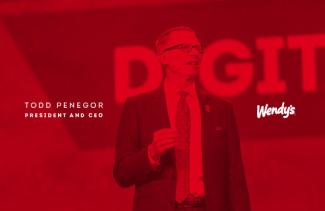 People, at all levels, are our most important asset at Wendy's. We have exceptional talent in our restaurants, in the field, within our franchise organizations, and at our Restaurant Support Center. Every day, I am proud of how our teams provide great restaurant experiences for our customers and drive remarkable innovations to help us achieve our vision of becoming the world's most thriving and beloved restaurant brand.  
An essential component of achieving this vision is through our corporate responsibility work. Last year, we consolidated our efforts under a new banner, Good Done Right, and focused our efforts in three key areas: Food, People and Footprint. During 2020, we drove continued progress on our corporate responsibility journey, including formalizing our approach to environmental, social and governance (ESG) issues by conducting a comprehensive materiality assessment; this helped us identify the areas most material to our business and that offer us the greatest opportunity to make a positive impact. We also engaged in critical discourse about our role in advancing racial equity and combatting social injustice.   
As we continue to evolve our work in this space, I want to highlight two of our leaders who play an important role in our journey to become an even better employer and corporate citizen. 
Dr. Beverly Stallings-Johnson has joined Wendy's as VP, Chief Diversity, Equity & Inclusion Officer and Liliana Esposito's position has been elevated to Chief Corporate Affairs & Sustainability Officer to better reflect her accountabilities and ongoing leadership in corporate responsibility.  
These leaders are a testament to doing the right thing, the right way, and I know they will continue to guide business decisions and ways of working in a manner that upholds Wendy's core values.  
Introducing Dr. Beverly Stallings-Johnson, VP, Chief Diversity, Equity & Inclusion Officer

As part of our ongoing DE&I strategy, Wendy's created a new function dedicated entirely to supporting DE&I strategic initiatives and enhanced our Employee Resource Groups (ERGs), training and development programs and external partnerships. To elevate this important work and achieve the goals outlined in our strategy, we knew it was critical to hire a leader to take us to the next level. And I'm thrilled that Beverly has joined the Wendy's family.
Beverly served as Chief Diversity Officer for the City of Columbus, leading the City's Office of Diversity and Inclusion in partnership with Columbus Mayor Andrew Ginther. In that role, she helped advance the Equity Agenda, which addresses disparities across the nearly one million residents of the city. She brings a deep connection to Wendy's hometown, having been a resident of central Ohio for 15 years.
Prior to her role with the City of Columbus, Beverly spent over 25 years in roles of increasing responsibility within Xerox, culminating in her role as EEO and Chief Diversity & Inclusion Global Compliance & Policy Officer. I value her perspective on leading DE&I efforts throughout the public and private sectors.
Liliana Esposito, Chief Corporate Affairs & Sustainability Officer

Liliana has served as Wendy's Chief Communications Officer since joining the Company in 2014. That role extended well beyond Communications, as she also leads our Quality Assurance and Customer Care teams and serves on the Boards of Wendy's Quality Supply Chain Co-op, Inc. and the Dave Thomas Foundation for Adoption®.   
During the last seven years, Liliana has led key supply chain decisions at Wendy's, like spearheading the effort to transition to 100% greenhouse-grown tomatoes and reducing antibiotics in our protein supply chain. She launched our Good Done Right and Squarely Sustainable platforms and led the team that conducted our first-ever ESG materiality assessment. Liliana has also guided noteworthy brand communication moments, like the celebration of Wendy's 50th anniversary. She helped lead the Company's COVID-19 Incident Response Team and led the team that created WeCare, our employee assistance fund, and our new community-based giving program, which provides grants to various charitable organizations identified by Wendy's employees. Liliana is also a champion for others in the Wendy's system, serving as Executive Sponsor of WeQual, the company's ERG focused on equality and supporting our LGBTQ+ employees, and taking part in the Women of Wendy's mentoring program.
Clearly, Chief Communications Officer didn't quite cover it–and now Liliana's title better reflects her wide, multi-faceted role and contributions to Wendy's.  
Continuing to Strengthen Corporate Responsibility at Wendy's  
We look forward to the evolution of our corporate responsibility efforts under the immensely qualified leadership of Beverly and Liliana, and the many other experts at Wendy's who contribute to this important body of work. We're continuing to build out our team with top talent and, as always, working to ensure recruiting and hiring initiatives are reaching a broad audience so that our workforce represents the communities in which we serve.
We know that, for us, corporate responsibility is a journey and we can always do more to help serve our customers and communities. We look forward to sharing more Good Done Right news in our upcoming corporate responsibility report in April, and to creating a brighter, bolder, more inclusive future together.