Wendy's Recognized as an Outstanding Workplace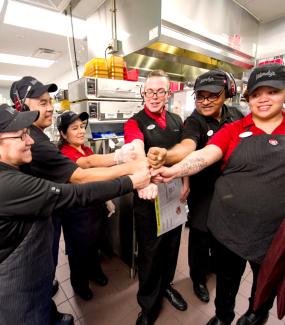 Editor's Note: We'd like to welcome our incoming Chief People Officer, Coley O'Brien, to The Square Deal.  Coley joined the Wendy's family in 2007 as National Director of Operations Training and has been successively promoted through Operations and Human Resources leadership roles over the past 10 years. As Chief People Officer, Coley is excited to elevate the Wendy's employee experience by focusing on culture, capability, careers, employee engagement, and diversity and inclusion. Through enabling systems that help measure employee engagement, train and develop employees at all levels, share best "people" practices across the system and benchmark performance within the industry, he will continue to strive to enhance the overall environment to ensure Wendy's remains a great place to work. 
Outside of his support of Wendy's brand and people strategies, Coley enjoys attending and supporting extra-curricular events with his three children, helping support youth baseball programs and cheering on his beloved Indiana Hoosiers (even when there is not much to cheer about).
Congratulations, Coley and welcome to The Square Deal!
People. Profit. Planet.
That was the focus of the TDn2K™ (Transforming Data into Knowledge) 2018 Global Best Practices Conference, which Wendy's colleagues, franchisees and I attended in Dallas last month.
We were there to accept a 2018 Global Best Practices Award on behalf of the Wendy's Company for being an industry leader in hourly and management turnover, diversity, compensation and year over year results.
The conference also recognized Wendy's efforts around community involvement, employee engagement and sustainability – areas in which we are considered among the best in the quick serve segment, also known as fast food. 
We're humbled and honored, because we've worked hard to give back to our local communities, take care of our people, drive profits and be good stewards of our planet.
And while we know that serving quality ingredients and fresh, never frozen beef in our restaurants sets us apart from our competitors, but we also believe that investing in our people, our company, and our community is what makes Wendy's a place our customers love to go. 
People.
Wendy's has many programs that focus on the success and wellbeing of our people.
First and foremost, we believe that employees produce their best results when they feel invested and connected to their workplace, and fostering our employee's ability to find points of connection with their team members and managers is critical.
That's why Wendy's supports its female employees, young professionals, the LGBT community, military personnel and families, and employees of various cultures through multiple employee resource groups that encourage learning, development and engagement: Women of Wendy's (WOW), WenGen, WeQual, Wendy's Military Support Network (WMSN), and Wendy's Cultural Diversity Network. 
Part of what makes Wendy's a great place to work is our rich heritage and family culture – and we recognize the importance of balancing personal and professional lives.
We offer a variety of benefits designed to support our employees and their families. While health insurance is just the beginning, Wendy's introduced paid bonding leave in 2017, offers retirement savings, adoption financial assistance, an Employee Assistance Program, employee discounts and much more.
We also recently established the Wendy's WeCare Fund, which is all about Wendy's people helping Wendy's people. WeCare allows members of the Wendy's family who have been negatively impacted by state and federally-declared natural disasters to apply for short-term financial assistance.
Profit.
Our founder, Dave Thomas, was famous for demystifying profit when he said, "Profit is not a dirty word."
We know Mr. Thomas would be particularly proud of Wendy's for recently recording our 19th consecutive quarter of same-restaurant sales growth, and our low employee turnover marks.
Strong people practices, including top quartile performance with restaurant-level turnover, were metrics in this Best Practices award to show the health of a business. Strong businesses attract and retain talent, and we have a strong business because of the people who work in our restaurants and at our restaurant support center. These two elements very much go hand-in-hand and one wouldn't exist without the other.
Planet.
We believe our business operations and the natural world are closely linked, and we continually work to make the world a better place by reducing our impact on the environment:
For many years, Wendy's has partnered with various oil recycling companies to collect used cooking oil so it can be refined for use as an ingredient in truly renewable second-use biofuels, animal feed and many consumer products like cosmetics, tires and leather shoes.

We've committed to reduce energy consumption in our U.S. company-owned restaurants by 20 percent per transaction by 2025 through the Department of Energy's (DOE's) Better Buildings Challenge. We are the first restaurant company to have franchisees join the Better Buildings Challenge, and the only restaurant franchisor to have independent franchise organizations participate. We are excited to report that we have 19 franchisees and counting participating in the program, which represents more than 1,500 restaurants in our system. 

We created the Wendy's Energy Challenge so those franchisees located outside the U.S. could also participate in an energy reduction challenge.

We're proud to note that due to these initiatives, 300 company-owned restaurants experienced a 12% reduction in energy between 2012 and 2016, and Wendy's spent nearly $1 million less in energy in those restaurants during that time. That's enough energy saved to power 540 U.S. homes for a year!
Now, there's a fourth "P" word that comes to mind with all of this. It isn't included in the TDn2K™ Best Practices Conference tagline, but it fuels the efforts described above.
Passion.
Without question, our passion for Wendy's is what earns us recognition like the 2018 Best Practices Award. We have a goal to Delight Every Customer, and we'll do that with Wendy's Kind of People. 
Restaurant employees, franchisees, restaurant support staff – everyone's enthusiastic contributions each day make our success possible.
For that, we say thank you… and congratulations on this terrific recognition!