Bourbon Bacon Cheeseburger is Menu Innovation at its Finest
Get Behind the Scenes and See How Our Culinary Team Dreamed Up the Latest Made to Crave Menu Item
Read time: 1 min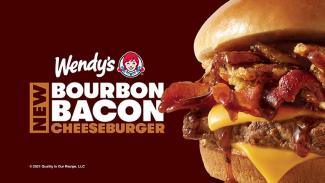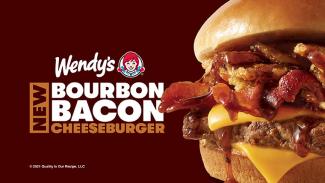 Fun fact: Wendy's® was the first national quick-service restaurant chain to serve fresh beef and made-to-order hamburgers, and has been since 1969. It's fair to say innovation is ingrained in who we are and how we operate. As the lead of our Culinary Innovation team, it's my responsibility to constantly push the boundaries of Wendy's menu and disrupt the quick-service food industry with the latest and greatest in new offerings. We operate off the pride we have in claiming the top spot as the number one seller of bacon cheeseburgers* in the industry. We're always challenging ourselves to think even bigger and hold true to serving the best bacon cheeseburgers in the business. Our newest offering is a perfect example of that effort: the Bourbon Bacon Cheeseburger. This stacked, mouthwatering cheeseburger combines two ingredients Wendy's knows better than anyone: beef and bacon. If you're reading this, you likely know all about our fresh, never frozen beef**, but our bacon? It's another ingredient we've skillfully mastered and something worth bragging about: smoked over the wood of apple trees and cooked fresh daily in our ovens—for the perfect crisp and the way all bacon deserves to be cooked—it imparts the perfect hit of salty and sweet that you can't beat.  
The Bourbon Bacon Cheeseburger is the newest item in our Made to Crave lineup. Introduced in 2019, Made to Crave is built around bringing unforgettable, diverse flavors you wouldn't expect from a fast-food restaurant's core menu. It's where my team's passion for food can shine and their culinary imaginations run free. As we innovate our menu, we conduct market research and track culinary trends to help inform the direction of our latest crave-worthy options. I'm not one for hyperbole, but believe me when I say the Bourbon Bacon Cheeseburger delivers on every taste note: imagine a quarter pound*** of our fresh, never frozen beef topped with sweet but savory Bourbon Bacon sauce, all piled high with our Applewood smoked bacon, American cheese, and crispy onions for crunch.
Don't let summer get ahead of you before you try the latest Made to Crave menu addition.
A Vision for Your Cravings
Our process for introducing new menu items is thorough and guided by our Wendy's food vision. You might be asking, "What's a food vision?" We have a team who are passionate and nerd out when it comes to all things food. Wendy's food vision, Fast Food Done Right, is the filter and framework to guide product innovation and ensure a quality experience, whether you're dining in or carrying out. Wendy's always serves Fast Food Done Right, which to us means real and fresh, craveable, on-trend (but not too trendy) recipes like the Bourbon Bacon Cheeseburger, which importantly, don't cost a fortune. We want our fans to get the best bang for their buck and believe that everyone should be able to enjoy affordable, tasty food.
This vision helped inform our entire Made to Crave lineup for hamburger and chicken fans. In addition to the Bourbon Bacon Cheeseburger, the Made to Crave lineup includes items you can't get anywhere else, like our Jalapeño Popper Chicken Sandwich and Cheeseburger, the Pretzel Bacon Pub Cheeseburger, and our Big Bacon Classic® Cheeseburger. We are firm believers you should not have to sacrifice quality and amazing taste for convenience.
We're Inspired to Have Your Back
My culinary inspiration doesn't only come from my experience trying what my team is whipping up in the Wendy's kitchen. I love to peek into other people's carts at the grocery store to see what they're cooking, and I seek inspiration from less obvious places that light up all the senses, like aromas you can smell on a summer day at the beach. Have you noticed how so many fragrances–even those we choose to fill our homes, like candles–are tied to food?
And you can't forget about sound! Recently, I was listening to an interview with musician Dave Grohl of Nirvana and Foo Fighters fame. In a nutshell, during the interview he called out three songs he thinks represent qualities anyone can call on when they're looking for inspiration. The songs he selected also reflect a lot of what I find important in food:
Timelessness, and a respect for our past and values, but with a fresh twist.
 Getting the basics right - you can't have a line like Made to Crave without a solid foundation that lets you build and explore new flavors.
And the last, fun. Music is fun. Food is fun. They both give an emotive response and at Wendy's we think it's cool to explore what our consumers think is fun and delicious.
The way we eat is truly a multi-sensory experience, and we use that to inform our Made to Crave lineup.
And, as always, we want to hear what you think. Tweet us @Wendys or leave a comment below.
* Source: Based on servings among quick service restaurants over 12 month period ending March 2021. Source: The NPD Group/CREST®
** Fresh beef available in the contiguous U.S., Alaska and Canada.
*** Approximate weight before cooking.