Celebrating Pride Month: Wendy's Employee Experiences
Reflections from Our LGBTQ+ Employees
Read time: 1 min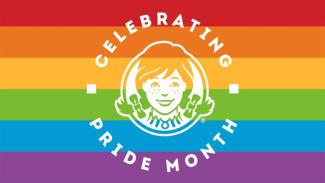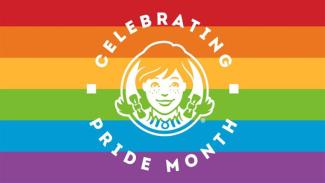 When a Pride flag shimmied up the flagpole outside of The Wendy's Company headquarters in Dublin, Ohio, earlier this month, Lynn Smith stood alongside colleagues and executive leaders with tears in her eyes.
Lynn has worked for Wendy's for nearly 30 years and, through that time, has seen Wendy's become increasingly progressive and outwardly accepting of the LGBTQ+ community.
In honor of Pride month, we asked Lynn and two other Wendy's employees to share their experiences about being a member of the LGBTQ+ community at Wendy's.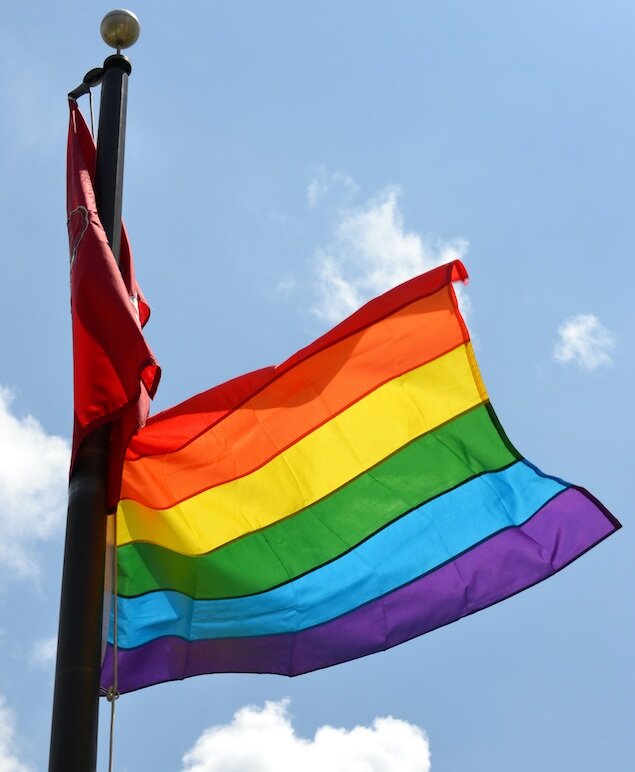 Steven Derwoed – Vice President, Global Design and Construction; Co-Chair, Wendy's Equality (WeQual) Employee Resource Group
Joined Wendy's: June 2019
I came to Columbus from New York City, where I lived a totally out and open lifestyle every single day. So, when I was contacted by Wendy's to join the Company, I Googled it for information about their views on being out and open at work. That was particularly important to me, because in New York, being gay was not something I ever thought about. But with the prospect of a move, it had become top of mind. 
After my online search, all I found was a rumor and innuendo, but nothing concrete. So, I said to myself, I'm going to go on this interview and judge for myself. During the interview process, it became very clear to me that the senior leadership team had a clear vision for what they wanted Wendy's to be. It was about creating a culture that would attract the best talent through openness, inclusion and the celebration of differences. We didn't talk about Pride, specifically, but I was really energized by how much they wanted to make Wendy's a leading example of what a great company culture can achieve.
I recognized that while we were looking to improve the overall Wendy's experience for everybody, I thought there were a few big gaps – a lower grade from the Human Rights Campaign (HRC) being one of them. Shortly after joining, Wendy's made HRC's list of companies doing things right. In 2019, Wendy's achieved a perfect 100 score, which is something that's made me incredibly proud.
Another aspect that is important to me is partner benefits, which Wendy's didn't have before I started. Shortly after I was hired, the Company surveyed employees and asked what we expect from a market-leading company. There were questions around domestic partnership and, low and behold, the next time we had the opportunity to enroll in a benefit plan, domestic partner benefits were included.
There's been great positive change in such a short amount of time. I have tremendous pride in working here. The greater Columbus community certainly feels like home now; we live in a newer subdivision and pretty much everyone in our neighborhood is from somewhere else, so we've all had to put ourselves out there and it's been a nice transition.
Noel Fonseca – Human Resources Business Partner
Joined Wendy's: June 2013
In my previous roles at various companies, I was always part of Employee Resource Groups (ERGs). In 2013, Wendy's was just getting ready to start Women of Wendy's, but there were no other ERGs in the works. I wanted to start WeQual, an ERG that would support the LGBTQ+ community and allies, so I reached out to a few people in Human Resources and started to look at the Human Rights Campaign scores. At that time, Wendy's score was a 55.
Part of the criteria for increasing your HRC score is to have an ERG focused on this work, so I worked with Human Resources and others to create a charter for WeQual that was endorsed by Wendy's leadership in August 2014.
We had our first WeQual gathering in Wendy's boardroom and hosted a lunch with LGBTQ+ employees and their allies – the first time that had happened in Company history. It was a personal milestone for me to make others in the Company feel welcome.
Throughout my eight years, I've seen a significant change in the culture at Wendy's and how we've made it a priority to support Diversity, Equity & Inclusion initiatives. There's a lot of energy, support and enthusiasm for learning about others and their background. Everything Wendy's as an employer does now is in service of creating a welcoming and inclusive work atmosphere. 
Lynn Smith – Research & Development Commercialization Manager, International
Joined Wendy's: 1992
When I started with Wendy's in 1992, the culture was very conservative and work was the place to talk about work, and not necessarily a person's personal life. When conversation would shift to evening or weekend plans, and my co-workers would talk about family-related matters, I became very uncomfortable talking about my life as I didn't feel comfortable being openly gay at work.
It wasn't until the late 90s that I felt comfortable enough coming out to my Quality Assurance (QA) department. The QA team was willing to accept me for who and what I am. Still, I never felt comfortable talking about it outside of my department.
That all changed in 1999 when I married my wife. Numerous colleagues came to our wedding to celebrate us, laugh and dance the night away. I can't tell you how that moment shifted my perspective in coming to work. I had the support and allies to truly bring my whole self to work every single day. 
Although it would take another 15 years for Wendy's to host the inaugural WeQual meeting, I could feel the momentum building throughout the company. We were more open and accepting of the LGBTQ+ community, but still nobody really talked about it. I knew other gays and lesbians worked at Wendy's, but I didn't really know how many there were. Then, the first WeQual meeting happened and it felt like a true breakthrough.
We were all sitting in that luncheon waiting for it to start and an attorney of ours at the time said, "I've never been in one room with so many gays and lesbians here at Wendy's." It was a moment for us to all look at each other and think, Wow. In fact, the support continually shows up in deeply meaningful and unexpected ways. For example, the VP of the department I work for now, Culinary Innovation, gifted everyone on our team with Wendy's Pride shirts last year. And my team wears those shirts often, sharing their support. My heart swells with love and appreciation just thinking of it.
Since WeQual was formed, it opened the doors for more colleagues to reach out to me about their own coming out experiences. I've had a couple people reach out to tell me they were gay but didn't know how to come out at work. Or, they were dealing with a child coming out and asked what advice I could give to help them be a supportive parent.
From being scared to death that they wouldn't hire me 30 years ago, to fast forward three decades later and raising the Pride flag over our office building with the Senior Leadership Team there… I can't even put into words how to describe it.
I am so proud to work for a company that has come this far.