The History of Wendy's Chili Recipe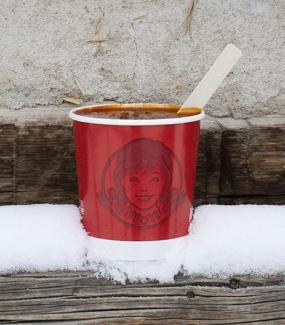 Wendy's Pays Tribute To Signature Menu Item On National Chili Day
There's something to be said about the level of comfort a bowl of chili can bring. When it comes to our list of menu items we wish we could snuggle, chili definitely tops the list. Hey, don't act like you've never dreamt of snuggling up to a big ole' bowl of chili by the fire on a cold winter night. We digress… But, it is National Chili Day so let's dive into the history of this signature item that's been on our menu since our early days.
So, What Makes Wendy's Chili Recipe Deliciously Different?
What is it about chili that makes it so desirable? The Wendy's Chili recipe ingredients are simple at their core, but at Wendy's it's all about blending our signature beef with the perfect mix of hearty vegetables, chili beans and savory spices. The result is a taste that's both satisfying and sentimental, and it's the perfect comfort food anytime of the year. Who else but Wendy's could bring you #allthefeels in every bite?
With Great Beef Comes Great Responsibility
Don't worry, this isn't the part where we segue into the robust history of Wendy's chili. We'll keep it short and savory. Being a resourceful man – and a little ahead of his time – Dave Thomas inherently understood the concept of food recovery. And by building the brand on the promise of serving fresh, never frozen beef*, Dave knew his hamburgers would have a shorter shelf-life. He even asked himself, "what do you do with the leftover hamburger?" The answer was simple: combine the beef we use for our hamburgers with a hearty helping of vegetables, chili beans and a dash of spice.
Creating the perfect chili recipe wasn't easy, but Dave knew it would be worth it. After many marathon cooking sessions, Dave created a sustainable solution and a delicious menu item that has stood the test of time and holds a special place in the hearts of customers.
Comfort Without The Calories
A large-serving size of our chili is packed with 23g of protein and 5g of fiber, with only 250 calories. And while we can't speak for its medicinal merit, it's been known to cure almost every craving and remedy a few bad days. Simply put, it's a taste that lets you reminisce and keeps you coming back for more.
Now, we didn't write this up to make you hungry on purpose. BUT… if that rumble you heard was your stomach growling, might we suggest a bowl of Wendy's Chili?

Click here to find your nearest Wendy's: Find My Wendy's
*Fresh beef available in the contiguous U.S., Alaska and Canada.