Supplier Code of Conduct & Next Steps
Read time: 1 min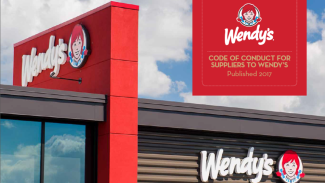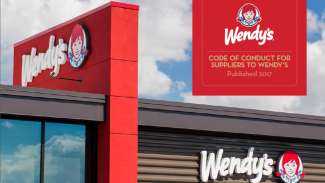 Since our founding by Dave Thomas in 1969, we have always operated under a core set of values which begin and end with a commitment to Quality. These values extend beyond the walls of our restaurants, and Restaurant Support Center, to the long-standing, collaborative relationships we have with our trusted suppliers.
Last year, we deployed our Supplier Code of Conduct to more than 300 U.S. suppliers of food, paper and packaging.  Why? Well, as in any business relationship, we enter into legal contracts with suppliers that provide goods and services to our restaurants. Our contracts with suppliers contain the basic terms of our business relationship, and they also clearly define our expectations for being a supplier to Wendy's.
But because contracts also contain terms that are competitively sensitive, they're private and not available for the world to see.
Enter the Wendy's Supplier Code of Conduct, which makes visible our values and expectations for suppliers. It's a public commitment to our way of doing business.
Taking The Next Steps
When we launched the Code last year, it applied to all of the food, paper and packaging suppliers that service Wendy's U.S. restaurants. Ninety-five percent of our restaurants are owned and operated by franchisees, and five percent of them are owned and operated by The Wendy's Company. Purchasing for all Wendy's restaurants in the U.S. and Canada is managed by Quality Supply Chain Cooperative (QSCC), an independent, not-for-profit purchasing and supply chain co-op that serves both franchisees and company operators.
Last year, we said that we would continue to enhance and expand the Code, and today, we announced the next phase. These details can be found in the news release and on the supply chain practices section of our website.
The Code now expands beyond U.S. QSCC suppliers of food, paper and packaging to all North American QSCC suppliers. It also applies to many significant professional service suppliers who contract directly with The Wendy's Company. These suppliers include our creative teams, marketing agencies, law firms, financial service providers, technology companies, and others that we rely on to help make the Wendy's brand successful.
We also expanded the scope and application of the code as it relates to human rights and labor practices for certain suppliers of fresh produce.
Expanding The Code
Our teams in Quality Assurance and QSCC spend a lot of time with our produce suppliers, and their teams, on their farms and in their fields. We are very proud of our supplier relationships in this area, and are confident that our suppliers will readily partner with us to provide additional assurances related to their practices. So, due to the nature of agricultural work, its workforce, and an evaluation of various risk factors, we expanded the Code to include additional requirements related to human rights and labor practices for certain produce suppliers.  
We look forward to expanding this Code in future years by applying it to areas of our international supplier community…more on that in the coming year.