Big Bacon Cheddar Cheeseburger Is Here
And It's Arrived On Our Made to Crave Menu Just in Time for National Cheeseburger Day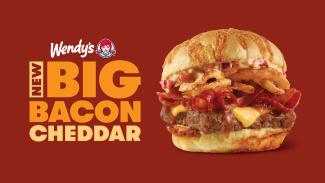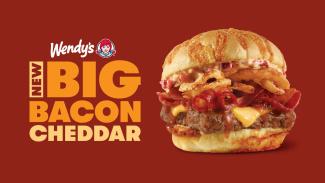 Just in time for National Cheeseburger Day on September 18, we've rolled out the newest (and third this year!) addition to our Made to Crave lineup – the Big Bacon Cheddar Cheeseburger. We're known for unexpected and craveable flavors, and as the home of the #1 bacon cheeseburger*, it was only natural for us to take things up a notch and put a fresh spin on this favorite classic.  
Our Made to Crave line-up is known for delivering unforgettable flavors you wouldn't expect from a quick-service restaurant in an approachable way, so you can get what you want when you want it. At Wendy's®, we're always looking for opportunities to up the ante and deliver new experiences our fans are craving, which is why you'll never see a product stay on the Made to Crave line for too long. The Big Bacon Cheddar Cheeseburger joins current fan-favorites, including the Bourbon Bacon Cheeseburger, Jalapeño Popper Chicken Sandwich, and the Big Bacon Classic Cheeseburger. 
Your Cheesy, Bacon-Lover Dreams Are Coming True
We're known for our hamburgers. Our fresh, never frozen beef** is foundational to what we do and is central to our brand. And did I mention fresh, never frozen beef never fails to deliver the perfect burger? Our newest hamburger is a dialed-up, pub-fare style sandwich that raises the bar. While it's full of nuanced flavor, what really brings it all together is the hamburger itself – it's the star that helps all of these ingredients shine.  
The Big Bacon Cheddar Cheeseburger elevates the well-known classic and flips it on its head. The build boasts our fresh, never frozen beef topped with our signature Applewood smoked bacon cooked fresh daily, a custom bacon sauce with a hint of sweetness, crispy onions, American cheese and a creamy, tangy cheddar cheese spread – inspired by pimento cheese, something we see popping up everywhere – all housed on a first-of-its-kind cheddar bun, toasted to perfection. 
We tapped into the wide breadth of culinary expertise across our team to develop the cheddar toasted bun, bringing forward an innovative option based on some of our favorite artisanal breads. We worked with one of our bakeries to create this first of its kind bun that caramelizes the cheddar on top of the bun – similar to what you would find in a bakery – and it's truly something special. 
But that's not all! We know our Applewood smoked bacon is something special, so we decided to upgrade how we use it and incorporate it an all-new bacon sauce. This sauce is a true *chef's kiss* — in other words, it's incredible. A perfect mix of sweet and savory, the bacon sauce complements the mix of textures and flavors to create a layered flavor in every bite.  
Are You Ready to Experience More? We Got You®!
If you're ready to experience all of the cheesy, bacon-filled goodness for yourself, head to your closest Wendy's, place an order through our mobile app or your preferred food delivery service to see what you've been missing! Plus, we're celebrating National Cheeseburger Day with a WEEK-long (September 13 – September 19), BOGO premium hamburger offer***, so you can try any two premium hamburgers, including the Big Bacon Cheddar Cheeseburger, by redeeming the offer in the Wendy's app. And don't forget—if you're like me and always looking out for deals and steals on food, join Wendy's Rewards™ to earn points toward your favorite Wendy's menu items. 
* Source: Based on servings among quick service restaurants over 12 month period ending March 2021. Source: The NPD Group/CREST® 
** Fresh beef available in the contiguous U.S., Alaska, and Canada.    
*** Offer only available at participating U.S. Wendy's and must be redeemed via the Wendy's app. Account registration required. Not valid for delivery orders placed outside of the Wendy's app.  See offer in the Wendy's app for further details.